• "Don't try to throw that sh*t at me when I'm dead" – Former Women's Champion Wants Her Merch & An Action Figure
Old School World Wrestling Federation Diva Jazz, who also wrestled for Paul Heyman's Extreme Championship Wrestling before her time in the WWF, recently joined Candace's The Zone podcast to talk about various topics, including why she was left off the recent 'Legends Night' episode of WWE Monday Night RAW.
Here's what the former 2 time Women's Champion and wife of former WWE Wrestler Rodney Mack had to say:
"I guess because they assumed that I was involved with that Konstantine Kyros WWE lawsuit…they have yet to reach out.
My issue with the WWE had nothing to do with concussions or any of that. My whole ordeal with them was me never getting things that I deserved.
I never had merch. They never gave me an action figure. Just little simple sh*t like that. That's what I'm not understanding with WWE.
I'm one of their top heels of all time and I never even turned face. Could have been over as a face as well. But, for me never to receive any type of merch, not an action figure, you know, why?
I just feel I deserved that. I still feel like I deserve it. It's not too late. I'm not dead. Don't try to throw that sh*t at me when I'm dead. Give it to my babies. Give me that now…reach out to me.
I can explain myself. Reach out to me. Let's talk. I have nothing against WWE. They gave me that platform for me to become who I am today, so I have nothing bad to say about them as far as that.
I just want what I deserve. And what's wrong with me having merch and a freaking action figure. That's not asking for a lot.
Honestly, I don't feel they really know how to market us, if we're not hip hop or a thug with our pants sagging or the hat to the side…it's like, just market us for who we are individually.
I just feel they need somebody in there to help them understand that. Why we always gotta dance? Shake our a$$. Why? Not all Black people can dance!"
WATCH: Peyton Royce Exposed By Charlotte Flair On This Week's RAW:
You can download our official WrestleFeed mobile app to check out more Wrestling news & Divas content. Tap here to download.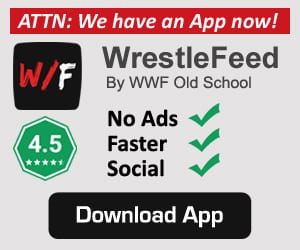 • On This Day In Pro Wrestling History (February 17, 2007) – Old School Veteran Passed Away
On this day in 2007, we lost Old School ECW/WCW/WWF Veteran "The Gladiator" Mike Awesome (Real name: Michael Alfonso) at the age of 42.
After spending most of his Professional Wrestling career in Japan, Mike Awesome ended up wrestling for Paul Heyman's Extreme Championship Wrestling (1998, 1999-2000), Ted Turner's World Championship Wrestling (2000-2001) and the World Wrestling Federation (2001-2002, 2005) before he retired in 2006.
During his WCW days, Awesome also had quite a few other gimmick names, such as "The Career Killer", "That '70s Guy" or "The Fat Chick Thriller".
He was the cousin of Hulk Hogan's nephew Horace Hogan (Michael Bollea).
REST IN PEACE MIKE AWESOME
January 24, 1965 – February 17, 2007