• Old School Wrestling Legend Celebrates His Birthday
Old School Wrestling Legend "Gorgeous" Jimmy "Jam" Garvin (Real name: James Williams) celebrates his 66th birthday today.
Jimmy Garvin used to be famous heel in Fritz Von Erich's World Class Championship Wrestling territory during the 80s, where he was managed by Precious and later by Sunshine.
In WCCW, Garvin was already associated (though not as a member of the group) with The Fabulous Freebirds, so it didn't come as a surprise when he joined the faction as an official Freebird in 1989, while working for Ted Turner's World Championship Wrestling.
In 2016, he was inducted into the WWE Hall of Fame, along with fellow Freebirds Michael "P.S." Hayes, Terry Gordy & Buddy Roberts.
HAPPY BIRTHDAY JIMMY GARVIN!
• ECW Legend Says Renee Young Laughed Harder Than Him On His Offensive Tweet Regarding Her
Renee Young recently became the first ever woman to be a full time commentator on Monday Night RAW.
I am so proud of @ReneeYoungWWE for becoming the first ever female commentator on #RAW! #YouDeserveIt! I can't wait to hear her perspective every Monday Night! #Evolution pic.twitter.com/KAkxAvSPVm

— Stephanie McMahon (@StephMcMahon) September 10, 2018
ECW Legend Sabu saw fellow ECW Legend Taz congratulating Renee for her promotion and posted the following:
"She is the 1st non f*g but she is one of many c*ck suckers"
Sabu later deleted the tweet, but you can check out the screenshot below: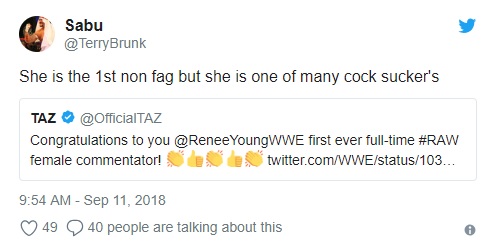 Sabu received backlash from fans after this tweet and this led to him posting the following tweet:
Lol oh boy I offended some one again .. lol wtf?

— Sabu (@TerryBrunk) September 11, 2018
Sabu is now claiming that he apologized to Renee and that Renee laughed harder than he did:
I apologised to her personally. And she laughed harder than I did …lol https://t.co/8cXXXwolFg

— Sabu (@TerryBrunk) September 20, 2018
I really wouldn't care . Bc I know they don't know them .and freedom of speech . And I did sent her a dm . And she laughed harder then I did …lol https://t.co/lHdqqqmoHq

— Sabu (@TerryBrunk) September 20, 2018