• Old School Wrestling Legend Celebrates His Birthday
Old School Wrestling Legend Stan "The Lariat" Hansen (Real name: John Hansen II) celebrates his 71st birthday today.
During his long illustrious career, Stan Hansen wrestled for several different territories such as the World Wide Wrestling Federation / World Wrestling Federation, the American Wrestling Association, World Championship Wrestling, All Japan Pro Wrestling, New Japan Pro Wrestling, … & more.
In 2016, he was inducted into the WWE Hall of Fame by his former opponent and close personal friend, Big Van Vader.
HAPPY BIRTHDAY STAN HANSEN!
• Eric Bischoff Says The Fiend Is Limited In One Way
During a recent edition of his 83 Weeks podcast, former WCW President Eric Bischoff talked about last week's segment between "The Fiend" Bray Wyatt and Vince McMahon on SmackDown.
Below is what Bischoff said about that segment:
"Vince (McMahon) is standing in the ring. I got no expression on Vince's face whatsoever because the way the red was reading in the ring. Vince's face was completely washed out. I don't know if he was crapping his pants. I don't know if he was laughing. I don't know if he was scared to death. I don't know anything.
That whole scene, however many minutes that scene lasted, that whole scene was a complete waste of time because you achieved nothing for The Fiend. You didn't make him scarier, you didn't make him more imposing, and you didn't make him more threatening. You didn't get the sense that the Fiend was thinking of doing something to Vince. You got nothing.
You can't get any expressions out of the Fiend because he's wearing a freaking mask, so you're pretty limited from the get-go. But there was so much going on visually to that point that there was no emotion. You couldn't see anything. How was I supposed to feel? What was I supposed to be thinking as a viewer?"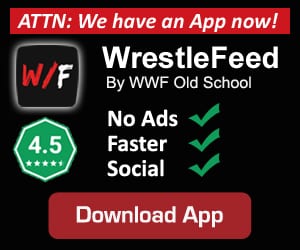 WATCH: Busty Stephanie McMahon Forcefully Kissed:
You can download our official WrestleFeed mobile app to check out more Wrestling news & Divas content. Tap here to download.