• Fan Recalls Sleeping With Chris Jericho's Girl Because Jericho Blew Him Off
A TikTok user @egotripdupp recorded a video for "What's the craziest reason you've slept with someone?", in which he revealed an incident that happened at the club he worked at when current AEW wrestler Chris Jericho visited there.
He said that he was a fan and tried to talk to Jericho, but Le Champion didn't pay much attention to him as he was just there to take a girl, who worked there, to his home.
The guy decided to take revenge on Jericho for not paying attention to him by becoming the "opening band for Fozzy" that night.
Below is the full story:
"So the reason isn't that outrageous, but the people involved kinda are. So that was when I worked in clubs, my boss told me that we're gonna have Chris Jericho come to town. I was stoked 'cause I loved wrestling and Fozzy and all that stuff.
So he comes in and holds like some contest or something, and I tried to talk to him a couple times… not really getting anywhere. Then he really shuts down the 18-year old me because I wasn't the boss and I didn't have t**s.
So I found out who he was interested in, and it was a regular that worked there, and I decided I was gonna take her into a room and have $ex with her… because he said he was taking her home that night. So I did.
After I finished, and no one really noticed, I walked up to him and said 'It's great to be the opening band for you, Jericho', and he just kind of looked at me weird, 'Well yeah, whatever.' And took her home.
But I mean I technically opened for Fozzy… that's pretty sweet."
You can watch the video below:
Also Read: WWE In Position To Take Action Against Chris Jericho's Call On AEW Dynamite
You can download our official WrestleFeed mobile app to check out more Wrestling news & Divas content. Tap here to download.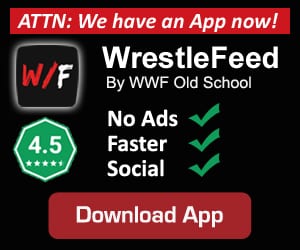 • ON THIS DAY IN WWF HISTORY (January 3, 1987) – WWF Boston Garden Show
On this day in Pro Wrestling history on December 7, 1985, the World Wrestling Federation held a televised house show at the Boston Garden in Boston, Massachusetts.
The live event was televised on the local NESN channel with Gorilla Monsoon & Lord Alfred Hayes doing commentary.
The card can be found here:
– Dan Spivey vs. Jimmy Jack Funk
– Don Muraco vs. Lanny Poffo
– Greg Valentine vs. Dick Slater
– Tama vs.Scott McGhee
– Randy Savage vs. Bruno Sammartino
– Sika vs. Cpl. Kirchner
– Mike Rotundo vs. Pete Doherty
– Blackjack Mulligan vs. Brutus Beefcake
– Hillbilly Jim vs. Jim Neidhart
– Bunkhouse Stampede Battle Royal