It's time for Ric Flair's Last Match!
Before the main event, The Undertaker, Michelle McCool & their daughter Kaia were seated ringside with Mick Foley for this match.
There's a Hall of Famers section at #RicFlairsLastMatch!@RealMickFoley, @McCoolMichelleL & @undertaker are here to support The Nature Boy! pic.twitter.com/00a2rp1Mc3

— #StarrcastV (@StarrcastEvents) August 1, 2022
Mike Chioda is the referee for this match. Jay Lethal & Jeff Jarrett came out first, followed by Andrade El Idolo & Ric Flair.
Ric Flair came out in a white robe with the Big Gold Belt!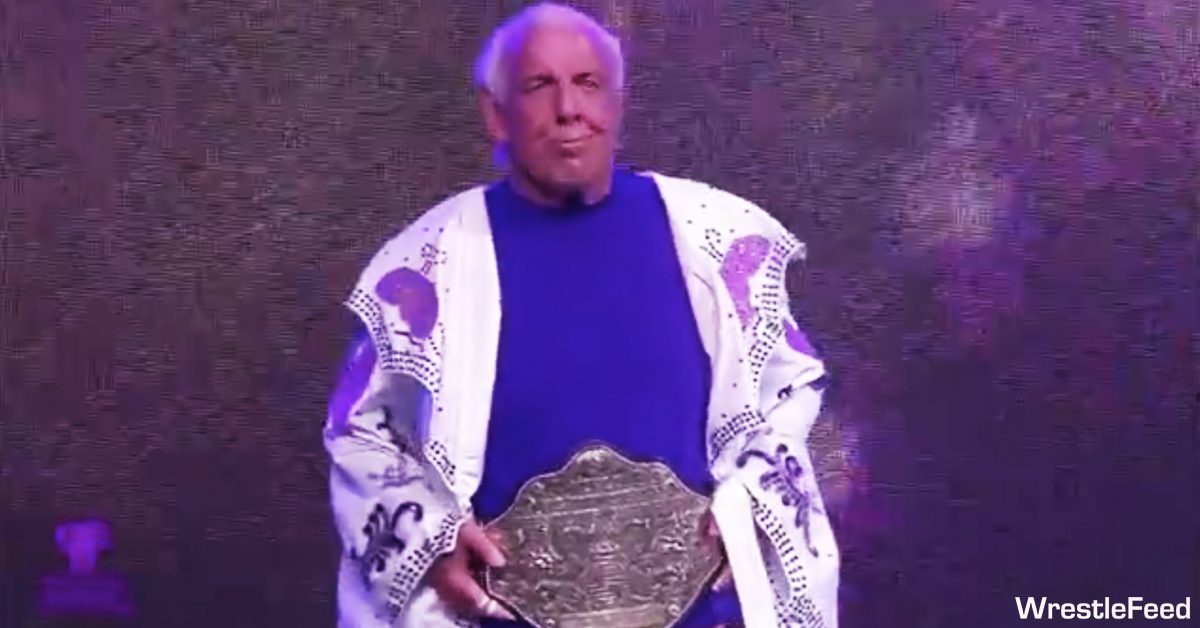 Flair and Jarrett are starting the match. Jarrett begins running his mouth and Flair slaps him. Jarrett then tags in Lethal.
Lethal & Flair do a sequence and fans begin chanting "you still got it!" at Flair.
Jay slaps Ric in the corner and Ric slaps him back. Andrade tags in now. Jarrett tags in and tells the crowd to suck it!
Flair tags in and he has a Strut Off with Jarrett and tells Karen Jarrett to suck it, which gets a big pop!
Ric begins chopping and punching Jarrett and Lethal jumps in the ring to stop Flair, but Flair low blows him!
Jarrett leaves the ring and wants to leave, but Karen calls her back. The crowd is chanting "you suck" and "a$$hole" at Jarrett and he begins leaving again.
.@RealJeffJarrett & @karenjarrett playing mind games.#RicFlairsLastMatch pic.twitter.com/ipNpNh4lZZ

— #StarrcastV (@StarrcastEvents) August 1, 2022
Jeff returns to the ring and Andrade tags in now. Andrade begins working on Jeff and Lethal tags in immediately.
Ric tags in quickly and begins working on Lethal with chops in the corner. After wooing and chopping Lethal multiple times, Ric gives the tag to Andrade.
Flair comes in the match and locks in the Figure 4 Leg Lock to Lethal, but Jarrett punched Ric in the head to break it up.
Jarrett hits Ric in the head with Karen's high heels and Karen then slapped Ric. This led to Ric's oldest daughter Megan fighting and pulling Karen's hair at ringside.
Flair is bleeding now and Lethal gives him a suplex in the ring. Lethal goes for the cover, but Andrade breaks it up.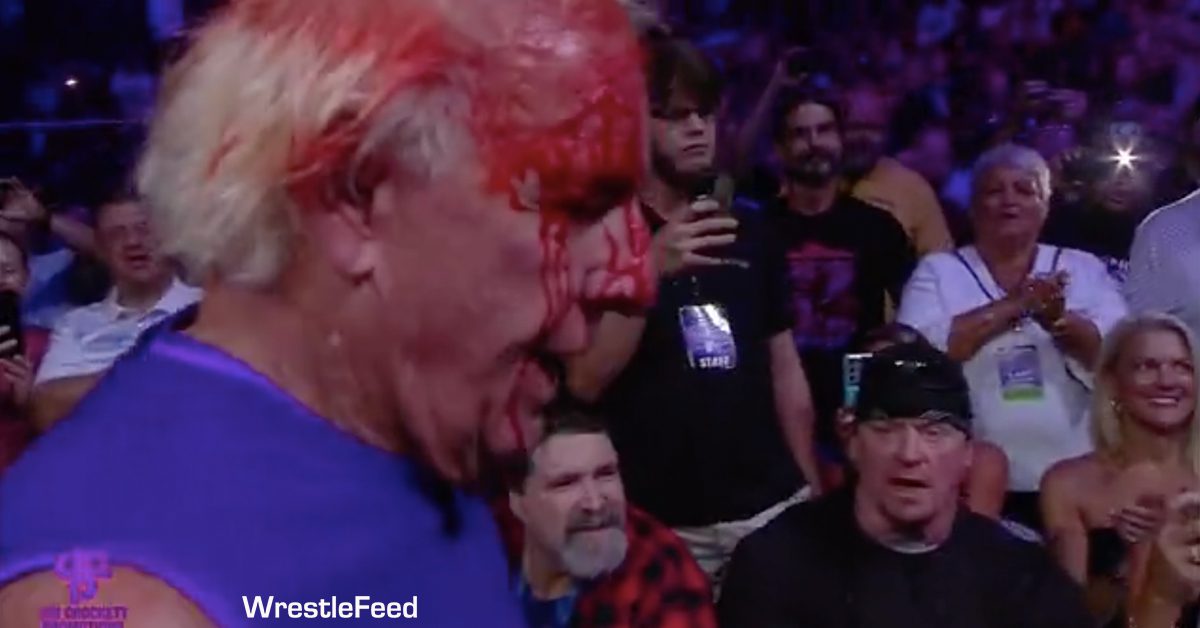 Jarrett locks in the Figure 4 Leg Lock on Flair and Andrade saves Flair by hitting a Splash on Jarrett!
Andrade tags in and Flair is down on the ring apron. Lethal accidentally superkicks Chioda.
Andrade dives on the outside, but Karen pulls Jeff out of the way and Andrade crashes.
Jarrett brings a Guitar to the ring and tells Lethal to pick up Flair. The referee is still down.
Andrade pulls Ric out of the way and Jeff smashes the Guitar on Lethal's head! Andrade gives knuckles to Ric and Ric knocks out Jarrett with a punch!
Another referee comes in and Ric pins Jeff!
Ric Flair & Andrade El Idolo def. Jeff Jarrett & Jay Lethal
You can watch the ending sequence below:
Flair met his family and fellow legends The Undertaker, Mick Foley & Bret Hart at ringside.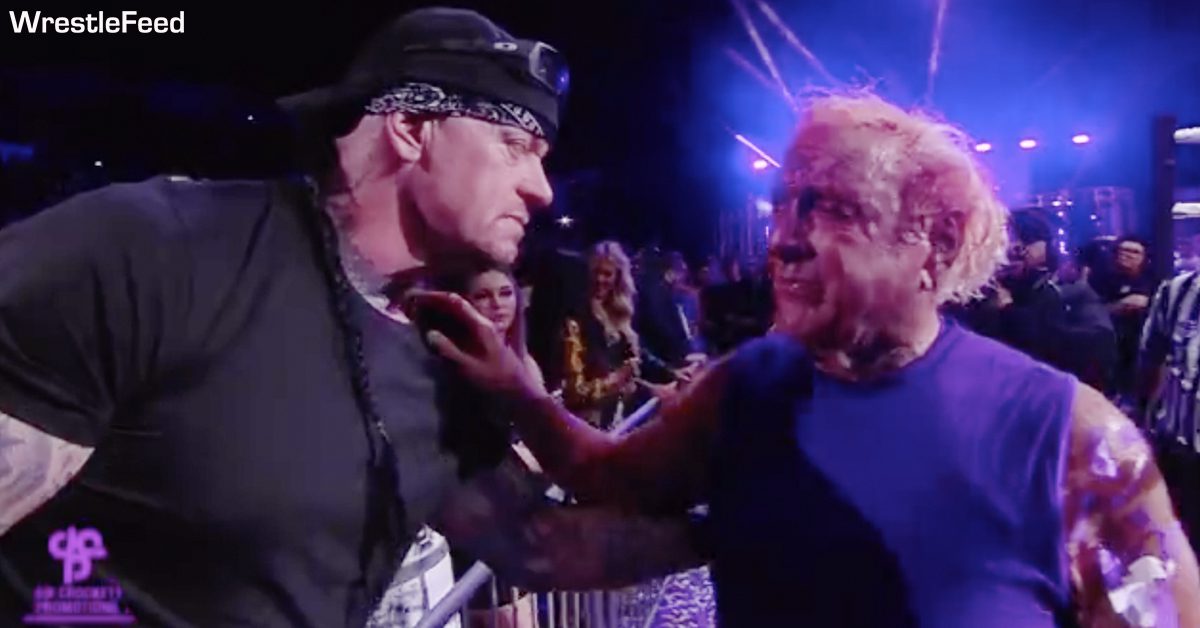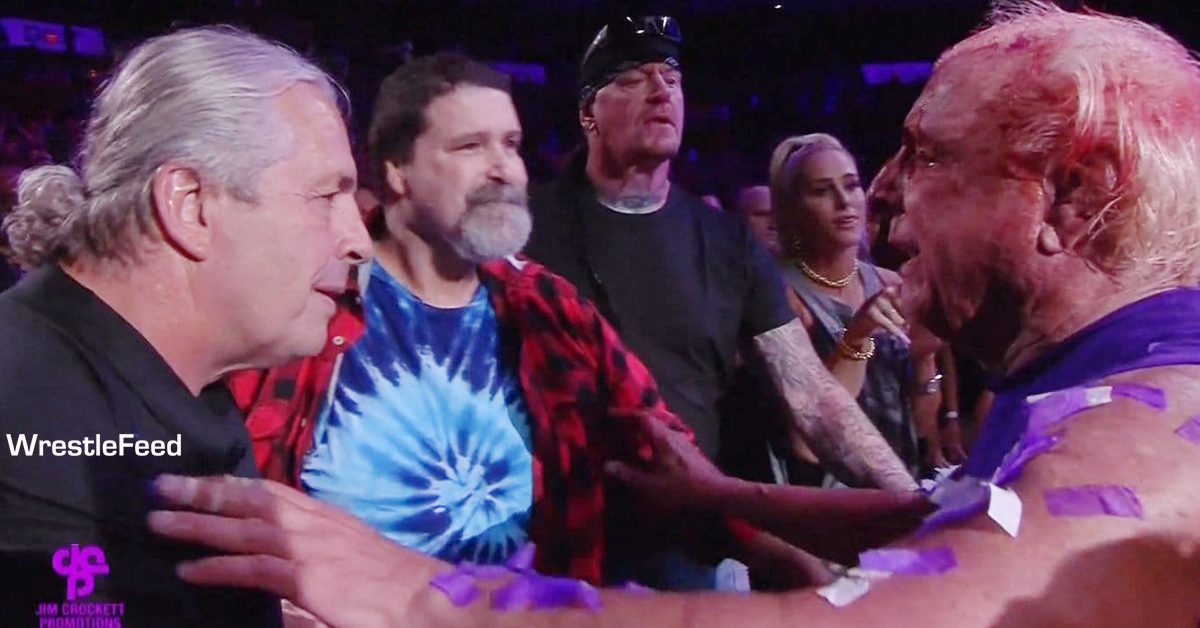 Tony Schiavone then talked to Flair and said The Nature Boy is the greatest professional wrestler of all time.
Flair then thanked the crowd for coming out and everyone gave him a standing ovation. Ric also said he's going to party with Kid Rock tonight, who was also in attendance and showed on camera.
Ric posed with the Big Gold Belt before leaving and even hugged Lethal in the end and that's when the show went off the air.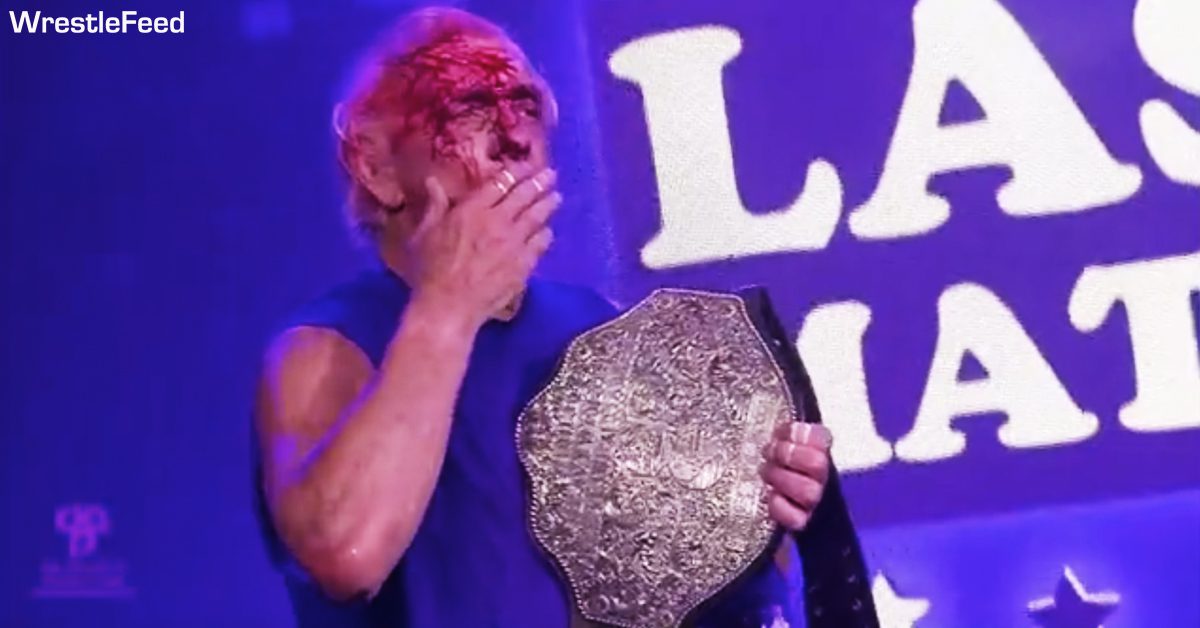 11 Matches took place on tonight's PPV. Tap here to read the complete results.
New Video: Torrie Wilson Licks Candice Michelle's Lips: