• OLD SCHOOL HISTORY (April 15, 1996) – WCW MONDAY NITRO
On this day in 1996, Ted Turner's World Championship Wrestling aired another LIVE episode of their weekly TV show 'WCW MONDAY NITRO'.
It was broadcasted from the the Charleston Civic Center in Charleston, West Virginia and featured matches, interviews & storyline segments on the road to the 'WCW Slamboree 1996' PPV.
The card can be found here:
1. Hulk Hogan vs. Arn Anderson & Kevin Sullivan
2. Falls Count Anywhere – Street Fight: The Nasty Boys vs. Public Enemy
3. Randy Savage vs. Bobby Eaton
4. Sting & Lex Luger vs. The Giant & Ric Flair
• Former WWE Announcer Rants About Michael Cole's Ridiculous Temper
During a recent edition of The Pat McAfee Show, WWE analyst Pat McAfee talked about Michael Cole being angry at him for wearing shorts at WrestleMania 35 and said he almost quit WWE after that altercation.
Below is what Pat said:
"[Michael Cole said] 'I told you no shorts!' I said you told me no jorts. He said 'you look unprofessional, you look sloppy.' He was like yelling at me in front of all these people that I looked up to.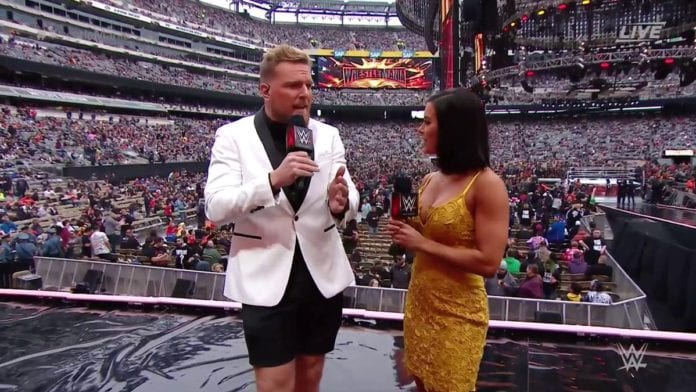 He was like yelling. This wasn't like a rib, or like a gimmick, you could tell there was actual panic.
I then walked back to where watch-a-long was happening and I grabbed my bag and I told the digital guy…I said 'you can tell Michael Cole to go f*** himself. I am leaving. I am not getting punked and yelled at like a child in front of everybody.
You guys think I'm some schlub. This is a second job to me, I'm very lucky to be here, very excited to here but I'm not going to get yelled at like I'm a f***ing child."
This story led to former WWE announcer Alex Del Barrio revealing his experience of working with Cole.
Alex revealed his story in multiple tweets and you can read them below:
Even though other announcers flew on the same plane in shorts and a t-shirt when I was in a suit and tie (and I shaved when I got to the hotel before rehearsals)

I was yelled at in an announcing training session for saying "skinning the cat" because it was an "insider term"

— Alex Del Barrio (@alexdelbarrio) April 10, 2019
And we don't use those on broadcasts…we do..and it's gymnastics terminology used in wrestling….I was yelled at for buying a Whataburger after a show at #nxtjacksonville…. I was yelled at for not doing my new NXT pre-show music contest even though I was told by production

— Alex Del Barrio (@alexdelbarrio) April 10, 2019
(Berkley) that he wanted to wait until the following week until he had more music in the computer, but I was yelled at for not doing it. I was only yelled at by Cole once. These were by other announcers who had it filtered down to them because the culture created

— Alex Del Barrio (@alexdelbarrio) April 10, 2019
They look for the smallest things to criticize, berate and bully. If they like you, they look the other way. If they don't they find ways to get you in trouble and cause this stigma about you within the company until you're ultimately gone.

— Alex Del Barrio (@alexdelbarrio) April 10, 2019
Cole I would argue has hired good talent, is underrated as a PXP guy when the reigns are taken off and when he wants to be an EXCELLENT teacher…but he also has a stupid temper, is fake when it comes to building a real culture of "team" and fosters a culture of not trusting

— Alex Del Barrio (@alexdelbarrio) April 10, 2019
Anyone and being constantly afraid of losing your gig at every turn. There are several other stories from other folks in his circle that have more direct interaction with his temper. This McAfee story doesn't surprise me AT ALL.

— Alex Del Barrio (@alexdelbarrio) April 10, 2019
I want to add one more thing here that I think is important…I'm usually pretty good at dealing with "yelling" I was an athlete in HS, not a good one, but i didn't mind the yelling if it was supported by coaching and honest criticism in order to help me improve.

— Alex Del Barrio (@alexdelbarrio) April 11, 2019
So I don't want it to come off like I was sulking in the corner every time someone said or did something to me. Not like that at all, I'm just someone that speaks my mind and will always stand up for myself, especially if you're just being a jerk for no reason.

— Alex Del Barrio (@alexdelbarrio) April 11, 2019
WATCH: Sasha Banks' Old Wardrobe Malfunction: