• Former UFC Fighter Explains Why He Doesn't Think Brock Lesnar Will Return To UFC
During a recent appearance on Talk Is Jericho podcast, former UFC fighter Chael Sonnen explained why he thinks Brock Lesnar won't return to the UFC.
Below is what he said:
"He's jammed up on that. I do not believe he can return to the UFC. He got popped and had to serve a year. To serve that year you have to stay in that pool. The last thing he wants is to be tested, particularly when he is not competing. He said that he was retired, so that took him out of the pool, but at the same time that stopped his suspension clock.
So, let's just say for math that he stayed for 4 months, he has a 12 month suspension, he stays for 4, great, when you want to come back you are going to serve your 8 months, and since you are a past offender you are going to give us 6 months of clean tests. So, if Brock Lesnar comes back, and I don't think Vince McMahon understands this, yes, having leverage in your negotiation is a good thing, as a matter of fact that is the only thing that helps during a negotiation, which is leverage.
Dana White is more than willing to help him out on the off chance that Brock is serious. Dana White is a mark as well. The only real professional here is that if Brock were to come back, he's going to have to sit for 14 months. You can't sit and promote a guy that's sitting for 14 months.
Do you think Brock Lesnar is going to sit there and do nothing for 14 months? Not going to happen. If I'm not mistaken he is 40, 41 years old."
• The Undertaker Backstage At WrestleMania 34 With Warrior Award Inductee Jarrius "JJ" Robertson (Photo)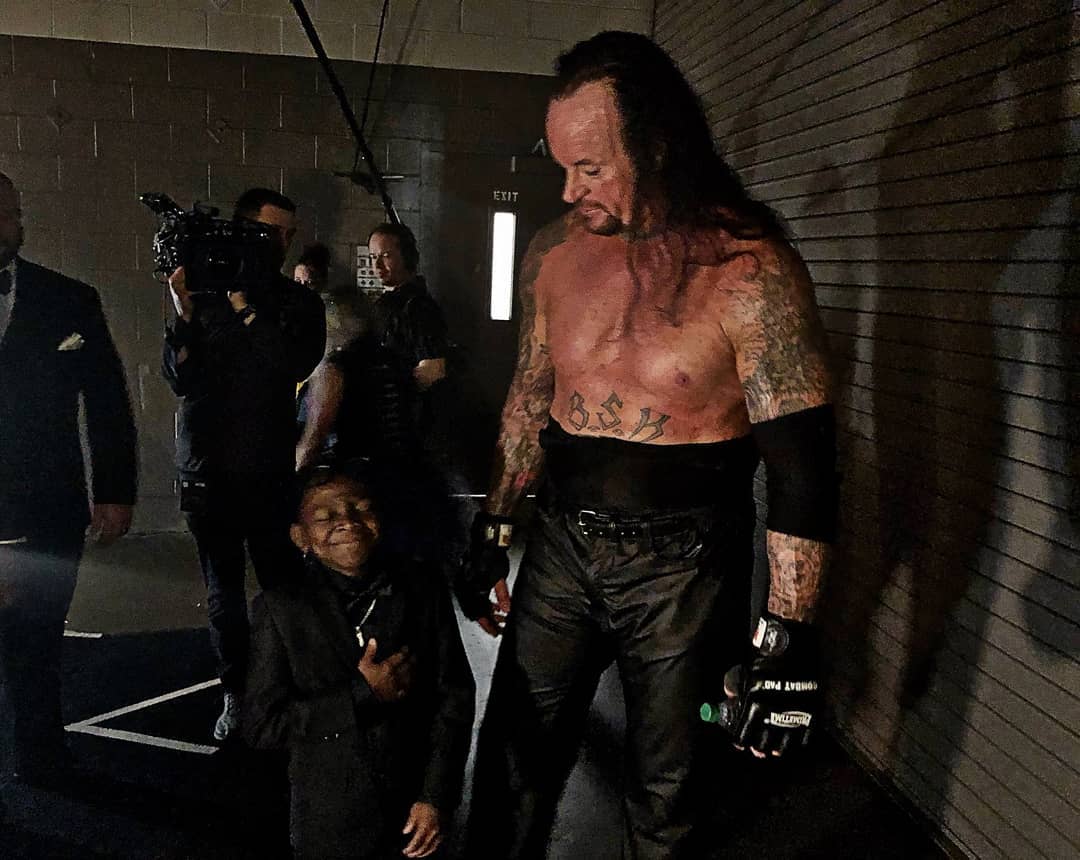 • Former WWE Champion Says He Didn't Walk Out On WWE
Former WWE Champion Batista cleared things up on Twitter by posting the following:
Please stop saying that I quit! I have never, EVER walked out on the WWE. Both times I left I did so with my contract completely fulfilled and expired. In fact I extended my contracts so I could finish certain programs. I also left on my back putting guys over. You're welcome! https://t.co/7rc57F3VM9

— Dave Bautista (@DaveBautista) April 8, 2018