• Former WWE Wrestler Accuses WWE Of Lying To Him About His Heel Turn
Former WWE wrestler Ryback recalled his heel turn the night after WrestleMania 29 on the Ryback Show and revealed that Vince McMahon, Triple H and Stephanie McMahon lied to him about how he was going to be booked as a heel.
Below is what he said:
"They brought me into the production meeting. After the meeting was over, it was Vince, Hunter and Stephanie at their table. They brought me in. I sat down and they explained to me that they wanted to turn me heel, which at the time I was in the top babyface discussion being used and I was red hot. I didn't understand.
At that stage of the game, you do what's told to you. But they worded it where they said, 'You are essentially going to be very figured into this company for a long time. We want you to work as a top heel and get that experience calling matches and being more in control as the heel.' The way they presented it sounded very good.
That was, I want to say 2 or 3 months in advance (of the heel turn). That was the direction we were going to go. Then at the end of the Mark Henry match (WrestleMania 29), that was for me to get some real steam before I turned heel on Cena.
Then days before WrestleMania, Fit Finlay was the agent and he said, 'You're falling on your face with Mark Henry on your back.' I said, what? I couldn't even get a hold of Vince. I couldn't find him. I had a meeting with him at WrestleMania that day in gorilla where he explained that this was going to be the big moment that you fail as a babyface on WrestleMania. You fell on your face and that's where the aggression and anger will fuel the heel turn with Cena, who was the top babyface.
But the way it was presented to me was what was going to win the championship. So as a talent, why wouldn't I go do this even though this doesn't feel right because I botched my own move. That's what he wanted but it was promises that weren't delivered. None of that makes any sense from a creative standpoint to lose and then be the #1 contender the next night. How?
This is why I have the issues I have with them with the lies because you go out and do business and you're professional and then they are not professional. That bothered me a lot because none of that made any sense."
WATCH: Becky Lynch Shows Off Her Butt (Part 3):
You can download our official WrestleFeed mobile app to check out more Wrestling news & Divas content. Tap here to download.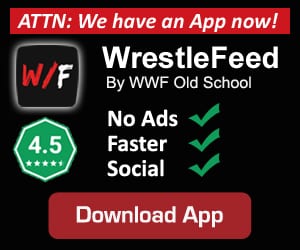 • Old School WWF Legend Would Have Celebrated His Birthday
Today would have been the 68th birthday of Old School WWF Legend The Junkyard Dog (Real name: Sylvester Ritter).
After becoming a huge Territory Star in Bill Watts' Mid-South Wrestling, JYD joined the World Wrestling Federation in 1984 and jumped ship to WCW in December of 1988, just a few day after Ted Turner bought Jim Crockett Promotions and renamed it.
The Junkyard Dog's last major Pro Wrestling appearance came 1 month before he passed away, when he was involved in an in-ring segment at ECW Wrestlepalooza 1998.
HAPPY BIRTHDAY & † R.I.P.
December 13, 1952 – June 2, 1998