• Former SmackDown General Manager Says WWE Chose His Hall Of Fame Inductors
During a recent appearance on the Wrestlinginc podcast, WWE Hall of Famer and former SmackDown General Manager Teddy Long talked about planning to write a book, being inducted in Hall of Fame in 2017, longtime friends JBL and Ron Simmons being his Hall of Fame inductors and more.
Below are the highlights:
On planning to write a book:
"I plan on it. I got a good friend of mine, the guy that built my website Jamie Cutter, he's gonna be working on that with me. The only reason I haven't yet is because I said to myself I'm not gonna do anything until I'm completely done. When I hang wrestling completely up and not go out and do indies or Comic Cons or anything involved with wrestling, then I'm gonna take that time and put the book together. I got enough stuff that I could write two books."
On being inducted into the WWE Hall of Fame in 2017:
"That was really great for me. I look at the Hall of Fame like this: there are a lot of people that pay a lot of dues and they work real hard, and sometimes they don't get rewarded for all the hard work that they do. So being in the Hall of Fame and getting into something like that means that somebody appreciated all the hard work that you've done in this business for the many years that you've been in it.
So the Hall of Fame was certainly a big surprise when they called me and let me know that I was gonna be inducted and it was the just the greatest feeling of my life to be successful because I can't go no higher than that. I'm not a wrestler, so I don't have to worry about trying to being the world champion, so Hall of Fame is the deal for me, playa."
On longtime friends JBL and Ron Simmons being his Hall of Fame inductors:
"WWE made that decision, I didn't have anything to do with it. I think when they made that decision, a lot of people knew the stories about me, John and Ron when I was riding with them back when they were the A.P.A. so they felt like with John and Ron inducting me, that would be really fun. They were entertaining, too."
• Former WWE Wrestler Questions How Triple H Passes Drug Tests In WWE – Calls HHH A "Ruthless Fata$$"
Former WWE wrestler Mark Jindrak (who is currently the CMLL World Heavyweight Champion) took a shot at "The Game" Triple H while discussing the Evolution stable which he was supposed to be a part of instead of Batista.
There's a chance Jindrak might have confused talks regarding the upcoming all-women's WWE Evolution PPV with the Evolution stable.
In his tweet (which has now been deleted), Jindrak questioned how Triple H passes a drug test like all of the other WWE wrestlers do (it's simple – he doesn't, as part-time wrestlers aren't tested in WWE) and called him a "ruthless fata$$).
You can check out a screenshot of his tweet below: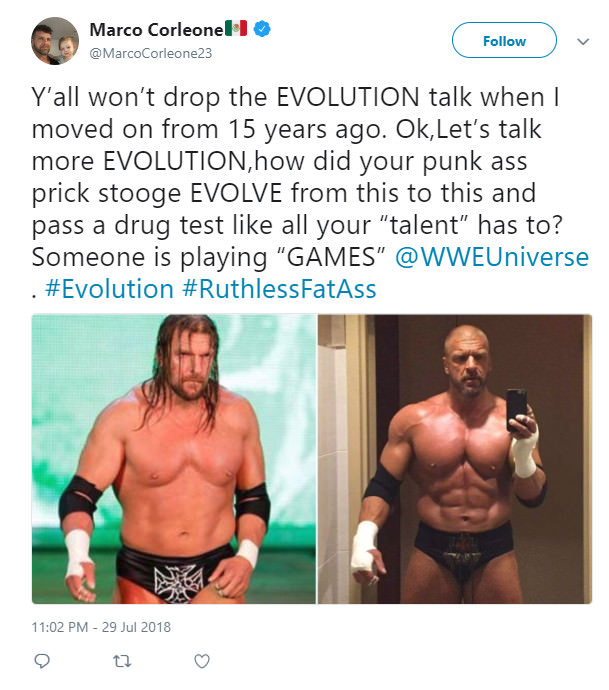 Announcement: We have launched our 'WrestleFeed' App on both Android & iOS. We're trying to create Wrestling's own Social Media with it. Apart from all the wrestling news, videos & other updates on the app, we're also going to do a 'Wrestling Quiz' every week before Monday Night RAW. The winner of that Quiz will win $100.
Please download our app now! Below are the download links:
Android – http://bit.ly/2IVQ3yU
iOS – https://apple.co/2Oido0R