• On This Day In Pro Wrestling History (September 9, 2018) – Old School WCW Veteran Passed Away
On this day in 2018, we lost Old School WCW Veteran Frank Andersson at the age of 62 due to complications from heart surgery.
How many Pro-Wrestlers do you know who won an Olympic Medal? Sure most of you will now say Kurt Angle and Ken Patera, but have you ever heard of Frank Andersson?
Andersson won a bronze medal in Greco-Roman Wrestling in the 1984 Olympics for his home country of Sweden.
Somehow that was supposed to qualify him for a career in Professional Wrestling, but i guess not every Olympic Medalist has the potential to become a huge star like Kurt Angle.
After wrestling for NJPW in 1991, and a dark match try out for the World Wrestling Federation in 1993, he got signed by World Championship Wrestling in early 1994 and wrestled for them until he retired in the summer of 1995.
† REST IN PEACE FRANK ANDERSSON
May 9, 1956 – September 9, 2018
• Former WWE Wrestler Says Vince McMahon Told Him 'Funny Doesn't Draw Money'
While speaking to Chris Featherstone, former WWE wrestler Mr. Kennedy recalled the blunt advice WWE CEO Vince McMahon gave him once.
Below is what he said:
"One of the things that stands out to me was early on when I first debuted, I was really over-the-top, and sort of comedic in my delivery of everything, and I remember him (Vince McMahon) trying to tell me like, you've got to stop trying to be funny and entertaining. I remember thinking that isn't that the point of what we're trying to do here, to just be entertaining? He was like, and I said well, with all due respect, he goes 'funny, doesn't draw money'.
And he goes, 'nobody ever drew big bucks being funny, goofy and doing comedy stuff.' And I was like, with all due respect, but I'm a huge fan of The Rock, and it feels to me that almost every one of the Rock's promos were funny. And he said yeah, but the thing about The Rock was that he sort of hamstrung himself when he started cutting those funny promos, like he did that, one of my favorite promos ever was The Rock talking to Billy Gunn about The King of The Ring, you remember that? I know it verbatim so I could do it, I've seen it so many times.
It was really, really funny, and he said that, after he did that, it's like fans always expect you to do that and now you have to deliver that, you have to have that delivery every single night. It's just really hard to do when you are running 52 weeks a year. So, I think that was an interesting piece of advice. There were times I think where funny is appropriate, but overall, the comedy characters, unfortunately, always seem to be secondary characters."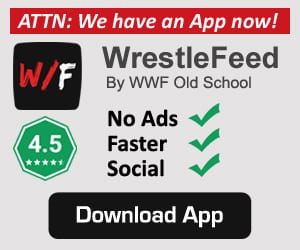 WATCH: Sonya Deville Topless (Part 2):
You can download our official WrestleFeed mobile app to check out more Wrestling news & Divas content. Tap here to download.