– Former WWF Writer On WWE Failing To Capitalize On A Loophole On Raw
During a recent edition of "The Brand" podcast, former WWF writer Vince Russo, WWE Veteran Vito LoGrasso, OVW Veteran Kenny Bolin, Chris Bolin and co-host Jeff Lane talked about last week's episode of Raw. Below are the highlights:
On who let The New Day in:
Russo: Here's the problem I had with this first thing and Jeff how many times have we seen this. They started going down a road, Stephanie started a lot of questioning with Kurt about who let The New Day in. Now if you guys remember, they set up that show where The New Day appeared.
Every door was locked. Security was tight, this that and the other thing. That's the way they set the show. All of a sudden New Day showed up. So now when Stephanie's going down that road with Kurt regarding who let New Day in, I finally said holy sh*t they did something on purpose and they're going to pay it off because there was security all around the building and somehow New Day got in.
Usually the WWE just lets things like this go by. Now they're gonna go down that road. They can get three hours out of this. There's a Fox in the henhouse. Who's the Fox? But what did they do? They did what they always do. They turned it into a wrestling angle between The New Day and The Shield.
I am jaded. I watched good wrestling in the 70s, the 80s, the Attitude Era. I watched good wrestling so I'm jaded because now I'm watching crap. Does anybody here care about The New Day versus The Shield?
Vito: Not a bit. Unless those guys will be held hostage for whole show and beat the crap out of with a tire iron or a rubber snake or something then I would say it was a great show. But nobody cares about the New Day. Nobody.
Russo: There's a rat. There's a freaking rat. Who's the rat, bro? I want to spend three hours making you think it was Jason Jordan, then we find out in the first hour well it's not Jason, oh wait a minute now it's The Miz.
That would have been my three freakin' hours, but they went off of that. Now we're gonna get to the big match between The Shield and The New Day that nobody gives a sh*t about.
On Dana Brooke:
Vito: Dana Brooke has gotten better and I think when she's let to be an aggressive heel and if they just let her run a little bit and just give her a little bit of a push I think you'd be able to see the improvements in her wrestling.
She's come a hundred miles from where she started. Is she ready to be World Champion? No. Is she ready to be a formidable foe and be put in a good angle? Yes.
I can see them two going together and start an angle that's the new angle, Asuka and Dana Brooke.
– On This Day In Pro Wrestling History (November 19, 1990) – The Undertaker Makes His First Ever WWF Appearance
On this day in Pro Wrestling History in 1990, The Undertaker appeared in the WWF for the first time ever. He worked the WWF Superstars tapings as "Kane The Undertaker".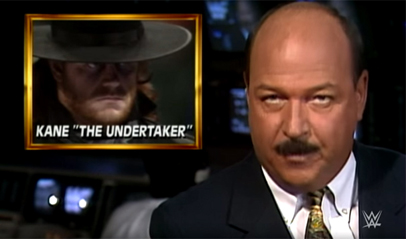 This isn't considered The Undertaker's official WWF debut as this match aired on December 15, 1990, while he was the mystery partner of Ted DiBiase's team at Survivor Series 1990 on November 22, 1990 (which is considered his official WWF debut).