• Hall Of Famer Confirms That John Cena Was Behind Alex Riley's Push Being Ended In WWE
While speaking on the ARN podcast, WWE Hall Of Famer Arn Anderson discussed Alex Riley's push ending in WWE and Serena Deeb being released from the company.
Below are the highlights:
On what happened to Alex Riley's career in WWE:
"I think Alex had a good look. I think his work was ok. He's seemed to gel well when they put him with The Miz. But there's a famous story that he was offered some help from John Cena and he seemed less than enthused or interested which would have immediately made it's way back to the locker room and to the office. I'm sure it was around that time that his water got cut off."
On why Serena Deeb was let go by WWE in 2010 in the middle of the Straight Edge Society push:
"Well, there was a rumor that something happened in L.A. that there was some episode that involved alcohol. If you have a straight edge gimmick, there is really no gray area there. It's either-or. It's not, well I'll have a couple occasionally.
That was one of the times that they put their foot down and said you can't be straight edge and not be straight edge. But, my dealings with her was she was a tremendous talent, very coachable and a nice person. She just made a mistake."
WATCH: Revealing Photos Of John Cena's Ex-Wife Go Viral: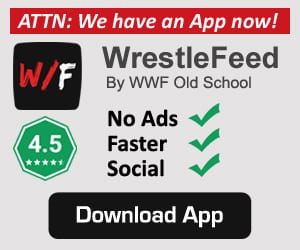 You can download our official WrestleFeed mobile app to check out more Wrestling news & Divas content. Tap here to download.
• Old School WWF Diva Passed Away
On this day in 2004, we lost Old School WWF Attitude Era Diva "Mrs. Cleavage" Marianna (Real name: Marianna Komlos).
Mrs. Cleavage was brought on WWF TV in 1999 as part of the infamous "Beaver Cleavage" incest storyline, that was quickly dropped and she just became Chaz's kayfabe girlfriend, Marianna.
The female bodybuilder passed away from breast cancer in 2004, only a few weeks after her 35th birthday.
HAPPY BIRTHDAY & † REST IN PEACE
September 3, 1969 – September 26, 2004