• "I see a lot of people straight up hating that I'm getting a World Title shot for the fact that I'm 50 years old" – Tommy Dreamer
ECW Legend Tommy Dreamer will face Rich Swann for the Impact World Championship this Saturday night at Impact Wrestling No Surrender PPV.
Swann gifted this Title match to Dreamer as Dreamer is going to turn 50 years old this Saturday.
During a media call, Dreamer talked about getting hate for being booked for a World Title match. He couldn't understand why some fans hate Old School Wrestlers.
Here's what he said:
"I'm not a social justice warrior, but I see a lot of people straight up hating that I'm getting a World Title shot for the fact that I'm 50 years old.
And they're like, 'Oh, there's so much youth' and all that stuff. Okay, number one: do you not like me because I'm going to be 50 on my birthday? Like, I'm sorry I'm 50 and I'm still wrestling? But there should never be that about anything. Like, I've even said that it's a gift and it's something that Rich [Swann] wanted to do. So how do you begrudge someone?
David Arquette, someone said, 'Hey! You're a big fan. Do you want to wrestle for the World Title?' And that was met with such hatred in this dark day in professional wrestling. Yet here's a guy…Like, if someone said to me or D'Lo [Brown], 'Hey, there's a football game on Sunday. It's called the Super Bowl. Would you like to play one down?' I don't know anybody that wouldn't say yes.
You look at Edge, who's 2 years younger than I. What a great story, you know, for him to win the Royal Rumble. And then the moment he won it, you have all these people like, 'He shouldn't have won it. He's too old.' And I'm like, 'Wait, you loved it before he won it!' Or my favorite is, everyone was rejoicing Victoria was in it. Victoria's older than me!
In Impact Wrestling, as you know I had a great relationship with Tessa Blanchard, and I was kind of her mentor. And I wanted to do, this is for old wrestling fans, Mr. Wrestling #2 vs. Magnum TA. And I wanted to actually turn heel on her, and beat her for the title. Then transition it to somebody else.
But I wanted to turn on her and be total, total heel. It didn't happen, but I think it would've been pretty damn good if it did because you would've had people hating on me and my biggest heat was, 'You turned on a woman? Who trusted you?' I thought it would've been pretty damn good, but it didn't happen."
WATCH: Sable Gets Stripped Unforgiven 1998 (Part 2):
You can download our official WrestleFeed mobile app to check out more Wrestling news & Divas content. Tap here to download.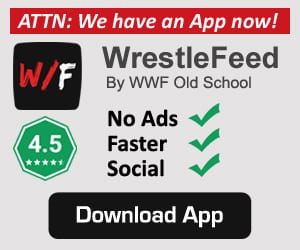 • Old School WWF Superstar Celebrates His Birthday
Old School World Wrestling Federation Veteran Outback Jack (Real name: Peter Stilsbury) celebrates his 63rd birthday today.
After the box office success of the 1986 movie 'Crocodile Dundee', the WWF brought in its own version of Paul Hogan's film character.
He started out well, but was eventually turned into a 'jobber to the stars' before he left the promotion in May of 1988.
HAPPY BIRTHDAY OUTBACK JACK!