• "I will haunt his soul from above if I die" – Former WWE Wrestler Rips Vince McMahon
While speaking on the Ryback Show, former WWE wrestler Ryback once again went on to rant about WWE and the McMahon family.
Below is what he said:
"[Vince McMahon] is not a good human being. That's the issue and the people think if you lay back and let them take control over you, they will eat you alive, which is why I am the way that I am and why I got everything I got because I will not back down from him.
I won't back down until the day I die. Even then, I will haunt his soul from above. I will not stop because he is such a horrible human being. I get hot and I can't wait with AEW and everything they are doing because change will come and people will realize the wrestling business will be so much better in the future from what it was.
The wrestling business has been so sh*tty for so long because of one man, Vince McMahon. One man and his greed and I promise you it won't be a good ending for him. It won't. The fact he is still trying it at this point in time in his life, what about empowering your f**king wrestlers?
Empower f**king people. Help give them opportunities if they can't work for you anymore or can't wrestle anymore. Empower people. Use the wealth that the wrestlers have helped given you and give it back to the community that f**king made you. He doesn't do that. They haven't been there one f**king bit for me. Not one thing and I will never f**king forget that. I will not forgive them and I will not forget it. I will f**king haunt them until the day I die because it's f**king personal."
WATCH: Natalya Suffers P-Slip:
You can download our official WrestleFeed mobile app to check out more Wrestling news & Divas content. Tap here to download.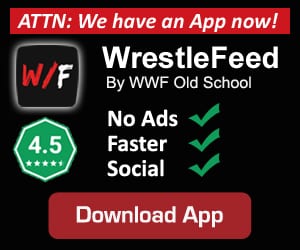 • On This Day In Pro Wrestling History (October 31, 1991) – Old School Wrestling Legend Passed Away
On this day in 1991, we lost Old School Wrestling Legend Gene Anderson (Real name: Eugene Avon Anderson) at the age of 52 due to a heart attack.
Since his debut in 1958, Gene wrestled for various different territories, but most Old School fans remember him for teaming up with kayfabe brother Lars Anderson and later Ole Anderson (another kayfabe brother) as 'The Minnesota Wrecking Crew'.
The team won several different tag team titles in various NWA promotions such as GCW Georgia Championship Wrestling and NWA Mid-Atalantic Championship Wrestling (Jim Crockett Promotions).
He retired in 1985, but continued to train future pro-wrestlers, including most famously WWF Attitude Era Superstar "The World's Most Dangerous Man" Ken Shamrock.
† REST IN PEACE GENE ANDERSON
October 4, 1939 – October 31, 1991