• "If WWE doesn't think you're a big deal, why should the fans?" – Arn Anderson On RAW Wrestler
On a recent episode of Arn Anderson's weekly podcast, the original 4 Horsemen member answered several different fan questions about various topics.
Below are the highlights:
On his WrestleMania X8 experience:
"I've been so fortunate to be in some special situations with some talented guys and situations where there were just a few people in the arena and a hundred thousand in the arena. Unless you've been to a WrestleMania, there's nothing like appearing in front of 100,000, 80,000, and just looking at that sea of audience. I was fortunate enough to be included in the Flair – Undertaker match where I slid into the ring and spinebuster The Undertaker.
The magic of not shooting me, I just kind of came out and started down fast walking on the side of the ramp, really close to the rail. Everyones watching the match, I got all the way there without anyone even seeing that I was there and it just appeared that I popped out of the ground. I just appeared, I just shot down very very close. I think they believed, just for a moment, when Ric covered him, that that was it.
That told you that was it, the screw job was in, it was the work. Of course, as we now know it was not. But for that moment in time to be in there with those two guys and have a moment that's featured and give the audience part of that roller coaster ride and give my contribution is one of those I'll never forget. You carry it with you and you'll never forget that feeling as long as you live."
On Bray Wyatt's cinematic match (Firefly Fun House match) at WrestleMania 36:
"It was different, it kind of gave you something other than just a wrestling match in an arena that's empty. I hope everyone appreciates how difficult it is to go out there and wrestle without fans screaming their lungs out. Without an adrenaline rush, those bumps hurt, they really do. Without adrenaline, everything hurts. It was a way to give you guys as an audience something different.
He was scarier to me in just the Bray Wyatt role then he is in the monster role. I know what he can give you as a character, the promos he did as the Bray Wyatt character to me, was something we missed the boat on. You not have beat him 10 pay-per-views in a row, there's a thought.
No matter how good you are, you as fans realize after three or four pay-per-views in a row, the guy is not a top guy. I thought he was but apparently nobody else does so I'm going to move on. That's kind of the mentality and it's a normal reaction.
If the company doesn't think you're a big deal, why should the fans? I would've loved to see Bray as Bray and involved in something that had a personal issue like when he was with Randy and they had their run."
WATCH: Check Out The Revealing Photos That WWE Hall Of Famer Sunny Sends To Fans In Exchange For Money:
You can download our official WrestleFeed mobile app to check out more Wrestling news & Divas content. Tap here to download.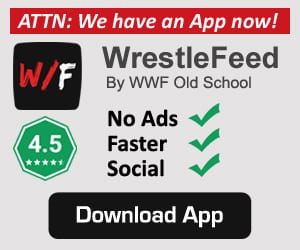 • Old School WWF Jobber Celebrates His Birthday
Old School WWF Jobber Barry Horowitz celebrates his 62nd birthday today.
Most fans remember Barry Horowitz as one of the most famous jobbers in professional wrestling history, after doing jobs for the World Wrestling Federation from 1987 until 1997.
Horowitz even wrestled on 3 WWF pay-per-views: SummerSlam 1995, Survivor Series 1995 and Royal Rumble 1996.
The last we ever saw him, was when he wrestled for Ted Turner's World Championship Wrestling from 1997 till 2000.
HAPPY BIRTHDAY BARRY HOROWITZ!