WWFOldSchool.com is saddened to report that former WWF wrestler Iron Mike Sharpe has passed away at the age of 64.
Mike Sharpe was best known for his run as an enhancement talent in the World Wrestling Federation from 1983 to 1995.
Sharpe's most memorable matches were against Jim Duggan, Demolition, Bob Backlund, Earthquake, Paul Orndorff, Doink, The Hart Foundation, Andrè The Giant, The Killer Bees, Don Muraco, The Big Boss Man, Tito Santana, Mr. Perfect, The Junkyard Dog, Tatanka, The Legion of Doom, Bret Hart, The Steiner Brothers, Davey Boy Smith, Tony Atlas, and Owen Hart.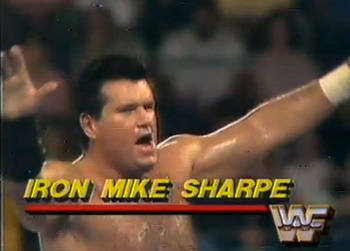 Mike Sharpe had the best reputation of all "Jobbers" and was always respected for his great in ring skills and his ability to shoot (if necessary), aswell as his great way to entertain crowds even without an actual gimmick, and tell a story in the ring, something hardly any enhancement talents were able to do.