• "It really doesn't appeal to me because basically what it is, is working around my limitations" – The Undertaker
The Undertaker recently spoke to Joseph Staszewski of The New York Post to promote his "Final Farewell" at Survivor Series later this month. He also discussed his relationship with WWE CEO Vince McMahon during their chat.
Taker said that he believes in the "never say never" thing, but he also believes that his body is not capable of giving fans "an Undertaker-WrestleMania type match" anymore. He knew he was done in the ring after the Boneyard match with AJ Styles at WrestleMania 36.
"I realized I have taken every physical gift, tool that I have and have used it up. There's no water left in the sponge, if I can use that analogy. I've rung everything I could get out of that sponge."
He also liked the concept of cinematic matches and thought he could continue his career by participating in them, but he thinks it would be "cheating".
"It really doesn't appeal to me because basically what it is, is working around my limitations. It's capitalizing on some of my ability and some of my creative ability to tell a story but basically it's trying to mask some of the lack of my physical abilities at this point."
When talking about Vince McMahon, he said that he is "a caring human being" and "not the monster that people think that he is."
"If Vince feels like there's still something there, I have a place on the roster, then I had no problem doing it. That's where the internet and all that stuff kind of show up, 'Just let him retire, just let him do this, let him do that.' I'm a grown man. I can walk away anytime I want."
He also said that he can't believe he lasted 30 years in one promotion.
"Guys will have their run and then they'll go somewhere else, they'll go to Japan, they'll go wherever or just take some time off. Because you get burned out and obviously our fan base, sometimes there's a flavor of the week.
Once something new comes in the old kind of gets set aside. If you had told me, 'yeah you're gonna have a 30-year straight run with one company,' I would have been like, 'yea OK. If you say so.'"
Also Read: "It's the strongest character WWE has right now" – The Undertaker On RAW Wrestler
WATCH: Michelle McCool (Undertaker's Wife) Suffers Major Wardrobe Malfunction:
You can download our official WrestleFeed mobile app to check out more Wrestling news & Divas content. Tap here to download.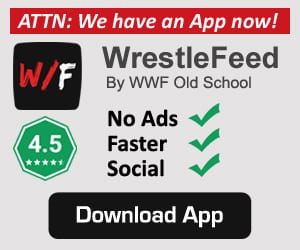 • Old School ECW Diva Celebrates Her Birthday
Old School ECW Diva Elektra (Real name: Donna Adamo) turns 50 today.
Elektra used to be the wife of ECW Wrestler Big Dick Dudley, whom she divorced in 2002.
She worked as a valet for Paul Heyman's Extreme Championship Wrestling promotion from 1999 till the company closed its doors in early 2001.
Adamo later worked as an actress in several episodes of the famous TV series 'The Sopranos', where she played a stripper in Tony Soprano's club.
HAPPY BIRTHDAY ELEKTRA!