• "It was a filler match" – WWE Legend On His Retirement Match
On a recent episode of his podcast, WWE Hall Of Famer Kurt Angle talked about his retirement match, which took place at WrestleMania 35 in 2019. He lost to Baron Corbin in his final match.
Angle said when he returned to WWE in 2017, he wanted to win World Titles, like Goldberg did after returning, but that didn't happen.
Angle then wanted John Cena for his final match, but that didn't happen either and he ended up being in a filler match on the WrestleMania card.
Here's what Angle said:
"Baron was more of a bully, I was more of the victim, I didn't like that, the program was fine. I was okay with it, it was a lot of fun to do.
Baron's a great talent, I didn't expect him to be my opponent at WrestleMania because at that time I don't think he was at the level that he deserved to go into WrestleMania wrestling a Hall of Fame Legend.
Even though afterward they utilized him pretty good, I think my WrestleMania match ignited that.
Vince wanted me to get him over and that was the plan the whole time, I knew that, at the time when they told me, I was thinking this was going to be my last match and I'm going to retire, I need to tell Vince. If I want an opponent other than Baron, I need to tell him right now.
I went to his office and I said 'I'm going to retire at WrestleMania, Vince. I know you have a program planned with Baron, but I would like to have John Cena because I started his career and I want him to end mine'.
He said 'Well, you're not doing that this year, you can possibly do it next year if you continue to wrestle for a year'.
I said 'No, I want to retire this year because my body is breaking down and I feel like I don't want to go on after that. I'm not able to perform at the level I expect to. I'm not crazy about wrestling Baron only because of his status at the time.'
I just don't think at that time he was at the level that he needed to be to wrestle a main eventer or Hall of Famer.
When you have 16 matches, that's a long show, I think that show was 7 hours long.
There were a lot of matches on there, and being #14 it's a lot of pressure but I also understood, when you're in the business as many years as I am, you realize what each match is for and what it represents.
The #14 match, it was structured in between two feature matches, my match with Baron Corbin was only 6 minutes long.
It was a filler match, that's what it was, it is what it is. I understand why they did it, my body was breaking down and I couldn't go at the level I used to.
Vince McMahon gave me the retirement match not that I exactly wanted but needed. I was just happy to have the match. It was a filler match, it was what it was.
I didn't do a lot in that match, my body was shutting down, I gained weight, I looked different, performed differently.
I was so excited to be at WrestleMania, but I couldn't wait for it to be over because I knew it wasn't a Kurt Angle performance the fans expect to see and it's disappointing.
I wanted to perform at that level, I came back to the WWE with the mindset that I was going to kick a$$, take names, win World Titles.
A good example is Goldberg. He comes back, wins World Titles and is in the main event of WrestleMania. I was hoping that the same would be for me but it just didn't happen.
Unfortunately because my body was shutting down because of the inactivity of not wrestling it was really difficult for me to perform at that level any more.
It was a mixed feelings day for me, I was excited to get my match out of the way, I also wanted to soak in the moment. When I walked out, that's when I soaked it in.
That's when I forgot everything I was doing and said enjoy it, you've got 82,000 fans screaming at you telling you 'You Suck' which is ironic but I understand why.
I soaked it in, performed the best I could. I wrestled at my abilities at the time and did the best I could.
It was a really cool moment but it was also sad because I knew I was never going to wrestle again. Hall of Famers usually tell you they're retired but they're not.
I stuck to my promise, remember that. I didn't return and I haven't returned at all and don't expect to."
Also Read: Kurt Angle Wanted To Form A New "Team Angle" With Jason Jordan & Chad Gable
WATCH: Trish Stratus Seduces Stevie Richards:
You can download our official WrestleFeed mobile app to check out more Wrestling news & Divas content. Tap here to download.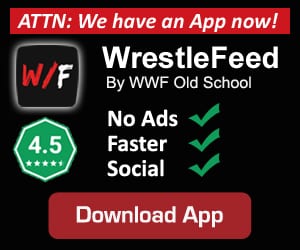 • ON THIS DAY IN PRO WRESTLING HISTORY (March 2, 2012) – Old School WWF Veteran Passed Away
On this day in 2012, we lost Old School WWF Veteran Doug Furnas at the age of 52 due to a atherosclerotic & hypertensive heart disease.
The former world-class powerlifter (986 lbs Squat, 600 lbs Bench Press, 826 lbs Deadlift) wrestled for various promotions over the years, such as Ted Turner's World Championship Wrestling (1990), Paul Heyman's Extreme Championship Wrestling (1996, 1997-1998) and the World Wrestling Federation (1996-1997).
Most Old School Wrestling fans remember him as a Tag Team Wrestler, who teamed up with Phil Lafon (Dan Kroffat) as 'The Can-Am Express' for the better part of his professional wrestling career.
† REST IN PEACE DOUG FURNAS
December 11, 1959 – March 2, 2012