• Braun Strowman Reveals How He Caught WWE's Attention
During a recent interview with WTMJ-TV Milwaukee, Braun Strowman talked about how it feels being a WWE star, what fascinated him about WWE and how he got WWE's attention.
Below are the highlights:
On how it feels being a WWE star:
"It really is surreal. It's happened so fast and taken off in such a positive way for my character, Braun Strowman with WWE. It's a dream, I'm living a fairy tale right now to be honest. To see the work I've put in come across the screen, being able to relate to the fans, turned into video game characters, action figures. See my friends and family around the world playing with my toys. I'm a country boy with a cool job."
On what fascinated him about WWE:
"As a child growing up, let's be honest what young boy doesn't want to be a WWE Superstar? You watch it, it's intoxicating, you see the crowd, the cheering, the larger than life characters. Being able to step into that world now, coming in from the Strongman side before, I would get to compete in front of 1,000, maybe 3,000-5,000 people at the most. And I fed off the crowd, the louder they cheered the stronger I would be. I thought, 'Man, I really, really liked that' and WWE approached me and offered me a deal. I was like 'Man, I really like Strongman, but I'm struggling to pay the bills, I'm struggling to feed myself, and I know WWE will be financially a better decision.' It's also a platform for me to step out, shine, and show the world my passion and drive."
On how he caught WWE's attention:
"I won the Arnold Amateur World Championship in 2012 and that's the first time WWE saw me. I met Mark Henry a couple times and we talked. I came out and dominated not only the performance, but hammed it up with the crowd, rippin' my shirt off – doing the whole deal – and having the whole place in a frenzy. It caught their eye and lo and behold here we are today."
• Jeff Hardy Arrested For DWI After Accident
Former WWE Champion and current Raw Superstar Jeff Hardy got arrested Saturday night for driving while impaired in Concord, North Carolina. Jeff was involved in an accident and got arrested by the Concord Police Department, but got released later.
Jeff, who has been out of action since last September due to a torn rotator cuff injury, ran off the roadway and struck a guardrail. This resulted in his car spinning into the middle of the right northbound lane.
Hardy's driving license has been suspended for 30 days and he will now appear in court on April 16.
It should be noted that Hardy already has two WWE Wellness Policy violations to his name and a third one could result in termination. However, it should be noted that WWE doesn't suspend wrestlers for Alcohol or Marijuana under their Wellness Policy.
Below is Hardy's mugshot: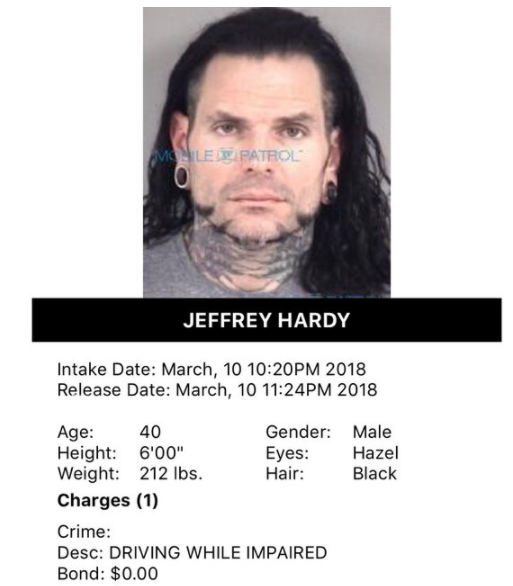 We'll keep you updated regarding this.