• Jim Johnston Says Randy Orton Hated His WWE Entrance Theme Song
During a recent interview with Lucha Libre Online, legendary Old School WWF/WWE composer Jim Johnston claimed that Randy Orton hated his WWE entrance theme song "Voices".
The Viper not being a fan of his own theme music at that time is an unconfirmed rumor, which Johnston says he believes to be true.
Here's what the former WWE employee said about the Randy Orton rumor:
"I never spoke to him directly, but apparently, Randy Orton said he hated his theme. I don't know if he still does and I don't even know why, but apparently, that was true. I never spoke with him about it."
Johnston also said that Orton wasn't the only Superstar who hated his own theme song, as Yokozuna also hated his theme song back in the day:
"I didn't deal directly with the wrestlers…I remember Yoko, he called me, managed to get me on the phone, and said he wanted to change his music from the Japanese sumo wrestler stuff. Now I'm trapped on the phone with the guy.
So I said, "Well, what are you thinking?". He said, "Well, I'd like some hip hop." I said "Yoko, you're a sumo wrestler! You're not a hip hop guy." But from his perspective, and I don't mean to be mean here, he was like "But I live in LA?" So it made perfect sense to him…So in general I didn't get involved with the talent."
During his 32 years (1985-2017) with Vince McMahon's promotion, Johnston composed entrance theme songs of many all-time-greats, such as The Undertaker, Stone Cold Steve Austin and The Rock.
Also Read: 1st Inductee For WWE Hall Of Fame Class Of 2021 Announced
WATCH: Kelly Kelly Exposes Her Big Buns:
You can download our official WrestleFeed mobile app to check out more Wrestling news & Divas content. Tap here to download.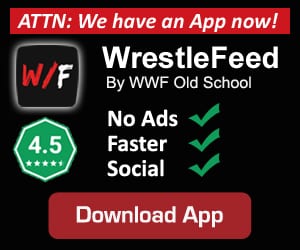 • Old School Lucha Libre Veteran Celebrates His Birthday
Old School Lucha Libre Veteran Pierroth Jr. (Real name: Norberto Salgado Salcedo) celebrates his 63rd birthday today.
From his debut in 1984 until his retirement in 2008, Pierroth Jr. wrestled for pretty much all the major promotions in his home country Mexico. However, fans in the United States mostly remember him for his time in the World Wrestling Federation during the 1996-1998 AAA/WWF talent exchange agreement.
The highlight of his WWF stint, where he was just known as "Pierroth", was entering the 1997 Royal Rumble match. He was eventually eliminated by fellow lucha libre veteran Mil Máscaras.
HAPPY BIRTHDAY PIERROTH JR.!