• Jimmy Smith On What Vince McMahon & Triple H Said To Him During & After RAW Debut
Jimmy Smith (former MMA fighter and former Bellator & UFC commentator) is the new play-by-play commentator on RAW and he made his debut on last week's show, where he replaced Adnan Virk.
During a recent appearance on Busted Open Radio, Jimmy talked about the advice he received from Vince McMahon, Triple H's reaction to his work & more.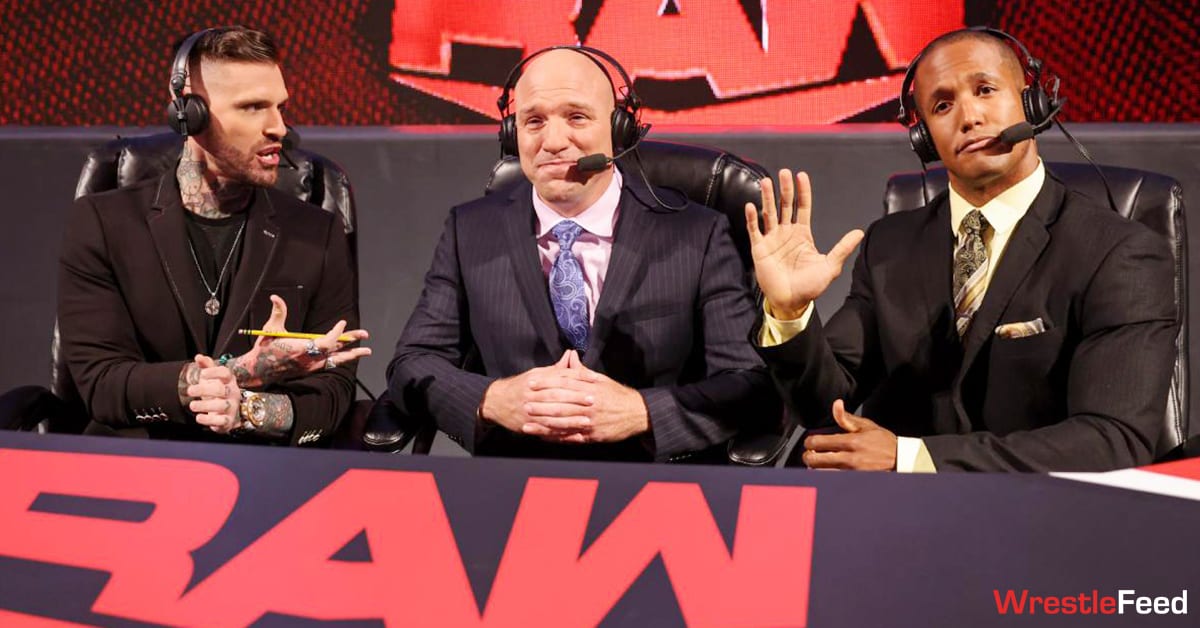 Below are the highlights:
On if Vince McMahon talking in his headset felt weird:
"Number one, [it was] easier. But you got to remember I used to have Bjorn Rebney yelling at me in Bellator. So, you know, that happens. That's not a big deal. Dana [White] didn't really do that in the UFC, but I've dealt with people yelling and multiple people taking to me at the same time. That's not weird at all."
On Vince McMahon's advice:
"When Vince hopped on it was about things that were specific to the WWE that I need to learn, that I found very, very helpful. Things like, whenever we say WWE fans, we say, 'Our fans.' There is verbiage that is specific to the WWE. They specifically want certain things.
They specifically don't want certain things that are very common in other sports, especially MMA. So, every time Vince jumped on it was a specific [thing], 'Hey, in the WWE we say this…' And, 'Ok got it. 100%, I understand.'
So, it was all helpful. Three people were never talking at the same time. Although it was three different voices, they all jumped on at different times. I had Michael Cole in my ear because Cole was producing from the event. As well as Kevin Dunn, and occasionally Vince. Vince, not that much. But both Kevin and Cole were good at not stepping on each other.
The hard part is when people try to tell you something at the same time. You know, the director and producer will be yakking at the same time and you go, 'Guys, one voice. I can't hear.' That never happened [on Monday].
So, as far as that went, their on-air traffic was great. Kevin's lead-ins were great, he gave me plenty of time. The countdowns are a lot shorter, so I've got to get used to that.
They'll go, 'Commercial, 3, 2…' Usually you get more time than that, it's just the nature of the way that pro wrestling works. But production wise, they were great."
On advice from other people backstage in WWE:
"The advice for me, from everybody, from the beginning, was, 'You may screw up moves, you may do this, you may do that.'
Number one, they were surprised by all the moves I knew. Afterwards Byron Saxton was like, 'Dude, I stepped on you because I didn't think you'd know the name of the move, and you did!'
But a big part of it was they said, 'You have energy. Just have energy. Just tell people they should be excited to be here, and be excited to be seeing what you're seeing.'
That was the advice from four different people, like, 'Hey, you can f**k this up, you can f**k that up, you can f**k up people's names. Have energy during the match.' And I went, 'No problem. That I have been doing a long time.'"
On what Triple H texted him:
"Triple H texted me [the next] morning and was like, 'Dude, great job. Thank you so much.' And that's what matters, man. Keeping a gig depends on 4 or 5 key people, and they were all happy this morning, and that's what matters."
WATCH: Extra Close Up Footage Of Zelina Vega (Aleister Black's Wife) In A Revealing Costume:
• Old School WrestleMania Celebrity Would Have Celebrated Her Birthday
Today would have been the 89th birthday of Old School WrestleMania Celebrity Joan Rivers (Real name: Joan Molinsky).
Joan Rivers was a famous comedian, actress and TV show host, but later in her career she also wrote and produced content.
Old School WWF fans remember her as special guest celebrity ring-announcer on the New York side of the WWF WrestleMania 2 pay-per-view.
HAPPY BIRTHDAY & † REST IN PEACE
June 8, 1933 – September 4, 2014