• ON THIS DAY IN WWF HISTORY (December 8, 2001) – WWF Jakked / WWF Metal
On this day in 2001, the World Wrestling Federation aired an episode of their weekly syndicated TV show 'WWF Jakked' (night version) aka 'WWF Metal' (afternoon version).
It featured pre-taped mid-card matches on the road to the 'WWF Vengeance 2001' PPV.
The card can be found right here:
– Perry Saturn vs. Mike Blatnik
– Chuck Palumbo & Billy Gunn vs. Skull Crusher & Ken Anderson
– Crash Holly vs. Funaki
• Kane Reveals How He Prepared For His Inferno Match Stunt In 1998
During a recent interview on Pardon My Take, WWF Legend Kane talked about how he prepared for his Inferno Match stunt at WWF Unforgiven 1998.
Below is what Kane said:
"Even the first Inferno Match — I talk about it in the book — basically I'm gonna have my arm lit on fire. That's not really a natural thing to do, right? Glenn isn't [born from fire] Kane might be.
So we have some Hollywood stunt people come in and we're rehearsing that day. They're like, 'You're gonna do this real time?' We're like, 'Yeah.' They're like, 'Man, this took us weeks to set up.'
So we did a rehearsed burn outside where they put everything on. I'm looking at my arm and there's like real fire on it and they're telling me like I go to move and they're like 'NO, NO DON'T DO THAT!' You gotta move this way and keep your arm behind you because if you put it in front of you you could inhale the flames, right?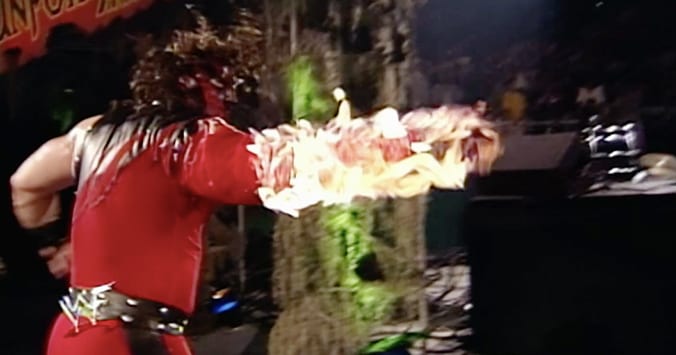 So here's the thing. I have to go out there and do a twenty minute match. Do all this stuff then do this stunt that I've never done before except in a rehearsal in front of a live audience of 15,000 people and millions watching on pay-per-view and I have to keep all this stuff straight in my mind, right?"
WATCH: Layla Had The Best Buns In WWE: