• Mandy Rose's Most Embarrassing WWE Moment Took Place At WrestleMania 37
During a recent Q&A session on Instagram, Mandy Rose was asked her most embarrassing WWE moment.
Mandy picked WrestleMania 37, where she slipped during her entrance because the ramp was wet due to rain.
You can watch it below: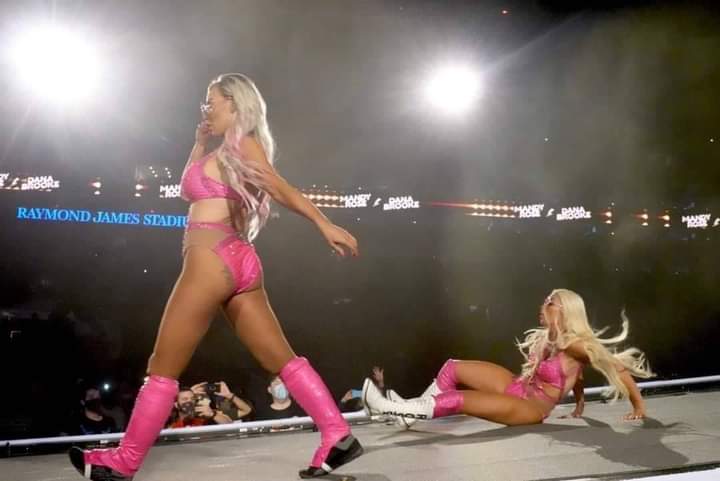 Also during this Q&A session, Mandy was asked when she's planning on getting married. She replied:
"Probably 2024."
Also Read: Mandy Rose Finally Opens Up About Getting Fired From WWE
WATCH: Mandy Rose's Revealing Photoshoot:
• On This Day In Pro Wrestling History (January 23, 1984) – WWF MSG House Show *HULK HOGAN WINS THE TITLE !!!!*
On this day in Pro Wrestling history on January 23, 1984, the World Wrestling Federation held a televised house show at the world's most famous arena, Madison Square Garden in New York City, New York.
"The Incredible" Hulk Hogan won his very first WWF World Heavyweight Championship that night, when he defeated WWF Champion The Iron Sheik in the most famous arena on the planet.
Not only did HULKAMANIA take over the World Wrestling Federation that day, it also marks the beginning of Vince McMahon's promotion becoming a national (and years later also international) sensation, as opposed to the regional territory thing it had been up to that point.
Regardless if you like the Hulkster or not, literally ALL Pro Wrestling historians, journalists, experts & dirt sheet writers agree, that Hogan put professional wrestling on the map that day. There is nothing left to be added. Period.
Here are the results from that night:
Tony Garea pinned Jose Luis Rivera
The Invaders wrestled Mr. Fuji & Tiger Chung Lee to a 20-minute time-limit draw
The Masked Superstar pinned Chief Jay Strongbow
Sgt. Slaughter defeated Ivan Putski by count-out
Paul Orndorff pinned Salvatore Bellomo
WWF Intercontinental Championship: Don Muraco (c) wrestled Tito Santana to a double DQ
2 out of 3 falls: The Haiti Kid & Tiger Jackson defeated Dana Carpenter & Pancho Boy
Jimmy Snuka pinned Rene Goulet
Andre the Giant, Rocky Johnson & Tony Atlas defeated Afa, Sika & Samula
WWF World Championship: Hulk Hogan (sub. for Bob Backlund) pinned The Iron Sheik (c)
1984 Canon – MSG 1/23/84 from OVP Podcast on Vimeo.