• ON THIS DAY IN WWF HISTORY (June 23, 1990) – WWF Superstars of Wrestling
On this day in 1990, the World Wrestling Federation aired an episode of their weekly TV show 'WWF Superstars of Wrestling'.
This episode was pre-taped at the Broome County Arena in Binghamton, New York and featured matches & storyline segments on the road to the 'WWF SummerSlam 1990' PPV.
Here's the card:
1. Brutus Beefcake vs. Mike Durham
2. The Barbarian vs. Scott Palmantonio
3. Demolition vs. Paul Diamond & Joe Champ
4. Dino Bravo vs. Tony Ulysses
5. The Orient Express vs. Jim Powers & Jim McPherson
6. Jim Duggan vs. Duane Gill
• Marty Scurll Accused Of Sexually Abusing A Minor
Ring Of Honor wrestler and head booker Marty Scurll has been accused of being a pedophile over the years, but there's never been a full story about him. A girl has come forward in the #SpeakingOut movement to share a story about Scurll sexually abusing her, when she was intoxicated at the age of 16.
Below is what she wrote:
"IPWUK were running their 'Weekend of Champions' event in Tonbridge.
I worked for IPW at the time, so I was at both shows that weekend, as well as the after party. By this time, it had become almost routine for Daniel Edler to constantly purchase me drinks at these events, so I was incredibly drunk. Especially for a 16 year old.
Later on in the night, I bumped into Marty outside of the party venue. He spent a while saying to me that 'we should go back together, let's go back to the hotel, let's f*ck'. I told him, 'I don't have a key for my hotel room, my friend has the only one'.
I remember that I did actually go inside and tell that friend that I was about to head off with Marty, but she wouldn't give me the keys because she thought it was a bad idea. Despite knowing I couldn't get into my hotel room, he walked me back to my hotel. For context, it was kind of an independent, small hotel.
Once we got outside my room, in this empty, quiet hallway, he sat on a chair and got his penis out and told me to suck it. So I did. After a little while he found a cupboard opposite my room, full of sheets. He took me in there and got me to stand up, with my underwear pulled down. Remember, I'm 16 at this time.
The whole time that he was getting me into position to stick his unprotected penis inside me, I was repeatedly saying 'I'm so sorry I'm a virgin' (Disclaimer: I had actually been raped by Dan Edler before this point, which I've detailed over and over in the past to the public and the police. But I personally still considered myself to have my virginity up until April that year).
Before he had even had the chance to penetrate me, the aforementioned friend turned up and told him to leave. The next day he didn't turn up for his match. Everyone there knew that we had kissed, so it was quickly circulating that I was a slut. But not the part where he sexually assaulted a drunk child. After this, Dan Edler said he'd never book him again. Because he considered me his girlfriend and he was jealous that something happened between me and another man. But that's a separate thing."
#speakingout MARTY SCURLL
He sexually abused me when I was 16 and intoxicated. pic.twitter.com/MolRM0j28I

— kitten (@mystickttn) June 22, 2020
Below are screenshots of Scurll messaging the girl's dad to apologize that it was a mistake to 'kiss her':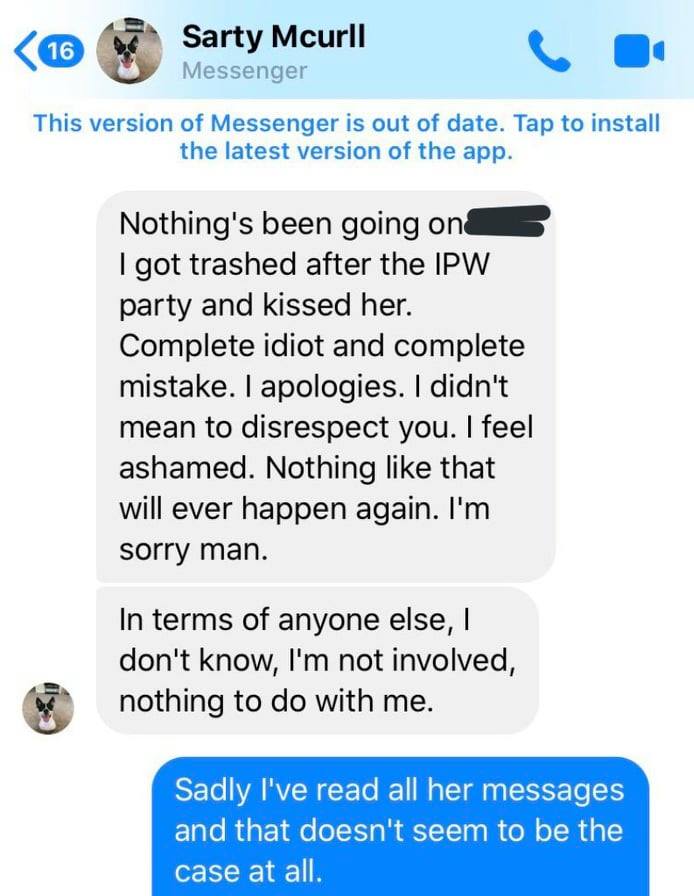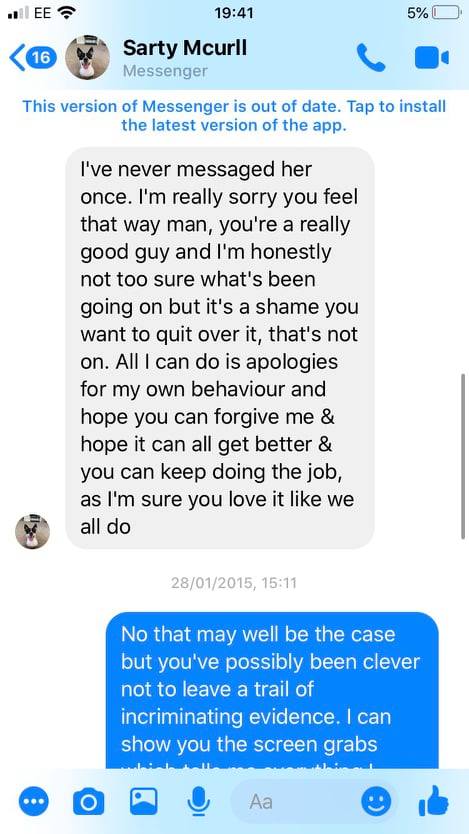 He knew he did something wrong. He decided to message my dad first. And he knew that something bigger was going on he knew there were other people doing this shit to me. He fucking said it right there.

— kitten (@mystickttn) June 23, 2020
I tried to speak to him the morning after it happened when a big group of us was walking around Tonbridge. I tried to talk to him at a Fight Nation show a year later. He never acknowledged my existence again after he did it besides this message.

He knew it was wrong. He hid.

— kitten (@mystickttn) June 23, 2020
My parents were manipulated by these people too. Why the fuck do you think they let me hang out with them? Everybody reassured my parents I was safe. They said they would look after me. My parents were lied to, but it's impossible to see through lies like that at the time.

— kitten (@mystickttn) June 23, 2020
Below is the list of pro-wrestling names that have been accused of inappropriate activities in 2020:
– Velveteen Dream (WWE NXT)
– David Starr
– Ligero (WWE NXT UK)
– Jordan Devlin (WWE NXT UK / NXT Cruiserweight Champion)
– Travis Banks (WWE NXT UK)
– Joe Coffey (WWE NXT UK)
– Jimmy Havoc (AEW)
– Jim Cornette & his wife Stacy
– Matt Riddle (WWE SmackDown)
– Wolfgang (WWE NXT UK)
– Anonymous former WWE wrestler who's currently signed to AEW and is married
– Jack Gallagher (WWE 205 Live)
– Tatanka
– Justin Roberts (AEW)
– Marty Scurll (ROH)
– Austin Aries
– Saraya Knight (Paige's Mother)
– Bull Dempsey
– Joey Ryan (Impact Wrestling)
– Dave Crist (Impact Wrestling)
– Michael Elgin (Impact Wrestling)
Also Read: Joey Ryan Fired From Impact Wrestling After Being Accused By Over A Dozen Women