– OVW Veteran Explains How Jason Jordan Was More Professional Than Paul Heyman On Raw, Questions Kurt Angle Cowering To Triple H
During a recent edition of "The Brand" podcast, former WWF writer Vince Russo, WWE Veteran Vito LoGrasso, OVW Veteran Kenny Bolin, Chris Bolin and co-host Jeff Lane talked about the Triple H – Kurt Angle & Jason Jordan segment from last week's Raw. Below are the highlights:
Jeff: I'm sure I'm gonna get accused of nitpicking as I usually do. But I think it's because so many people have lowered their expectations and that's something you guys always talk about is that when something decent happens they don't like to hear why something in it was illogical.
So therefore you're nitpicking and I understand that. But to me this sticks out like a sore thumb. I love seeing Triple H. I think he still commands the audience. I think he's something that somebody wants to see. I liked seeing Jason Jordan look vulnerable, begging – please don't do this to me. I like the drama there.
Here's my issue – but once again Kurt Angle looked like a complete wuss because here's Triple H towering over him if you're not going to do it, I'm gonna do it. Stared him down. Did it. And then Pedigrees his son and he just stood there and let it all happen. That's what's stuck out like a sore thumb.
Vito: I thought it was horrible because in reality, I mean even the conversation we have and it says everybody on this panel here, if somebody hit your child you would go ballistic and you would go after him.
And when your boss gets in your face even though he might be wrong and there's some heat from the other boss and you don't answer back and then he comes out and he buries your son on top of it, where's your man card?
Where is that spunk? Where's that Kurt Angle? Where the drama of grabbing Triple H by the jacket and where's this to staredown and where is grabbing him or doing something? He let him walk. I mean it was terrible.
Kenny: Why would Kurt, who obviously is in pretty good shape, cower down to Triple H when he's an Olympic gold medalist?
Russo: I want to just elaborate a little bit more. I thought Jason Jordan did a fantastic job and you gotta understand he's in front of a hostile crowd. They freaking hate the guy. He's in front of a hostile crowd.
He's a rookie, he's young and I thought in that spot he did a terrific job drowning out the crowd. Very emotional. Very believable. I thought he did a great job in that spot.
Kenny: He was actually more professional than Paul Heyman was because Paul Heyman let the crowd get to him and he had to stop and let them get in the nonsense about "she said yes" where he was able to cancel out the crowd and go on with his job.
– Mick Foley Accused Of Sleeping With An Underage Girl
A woman named Angel Amoroso is accusing WWE Hall of Famer Mick Foley of sleeping with her when she was 15 years old. She showed up outside a Mick Foley book signing with the following poster: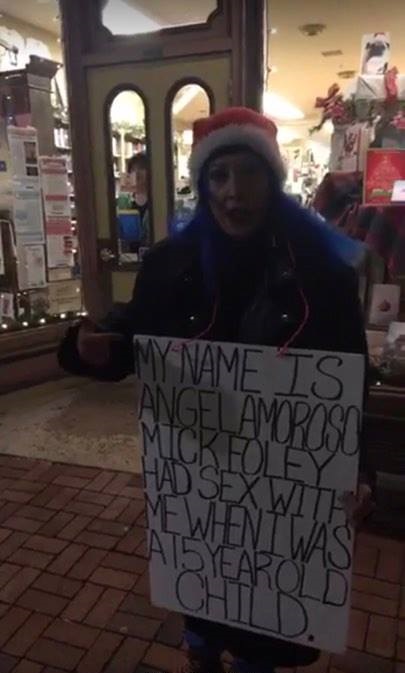 Below is a video that she posted on Facebook: