• Old School WWF/WWE Veteran Celebrates His Birthday
Old School WWF/WWE Veteran "The Next Big Thing" Brock Lesnar celebrates his 42nd birthday today.
Brock Lesnar was a World Wrestling Federation developmental wrestler, who in 2000 started to wrestle for their developmental promotion Ohio Valley Wrestling down in Louisville, Kentucky, before having his official WWF debut on Monday Night RAW in 2002.
His biggest time came after the WWF/E name change during the Ruthless Aggression Era, where he became a multiple time WWE Heavyweight Champion and by far the #1 Heel of the SmackDown! brand, before leaving the WWE after WrestleMania XX to pursue a football career in the NFL, playing for the Minnesota Vikings in 2004.
When that didn't work out (as he only played in several pre-season games), Brock got into the sport of mixed martial arts and eventually became the UFC World Heavyweight Champion in 2008.
Lesnar ended up returning to the WWE in 2012, though this time as a part-timer / special attraction.
Despite popular misconception, he's still considered a huge box-office draw these day, thus clearly justifying the millions of dollars Vince McMahon pays him for his stints.
HAPPY BIRTHDAY BROCK LESNAR!
• Official WWE Name Of Roman Reigns & The Undertaker's Tag Team Revealed
This Sunday at Extreme Rules 2019, The Undertaker will have his second match of 2019, when he teams up with the man that defeated him in the main event of WrestleMania 33, Roman Reigns, to take on the team of "Best In The World" Shane McMahon & Drew McIntyre.
WWE has revealed the official name of Reigns & Undertaker's tag team – Graveyard Dogs.
WWE released a T-Shirt for this tag team ahead of Extreme Rules 2019 and you can check it out below: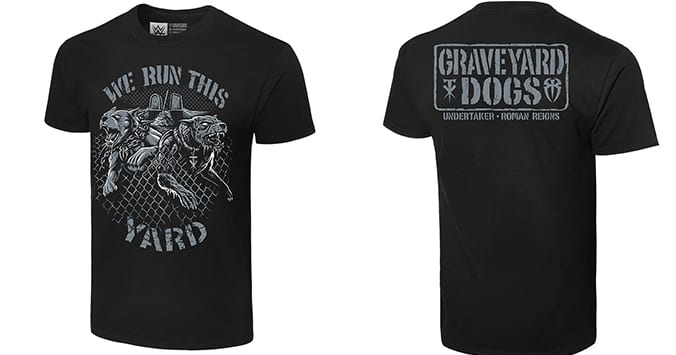 Announcement: Please download our official "WrestleFeed" app for the latest WWE News & Extreme Rules 2019 updates!
Below are the download links for our Android/iOS app:
Android – http://bit.ly/2IVQ3yU
iOS – https://apple.co/2Oido0R