• OLD SCHOOL VIDEO HISTORY (January 8, 1998) – 1st Episode of WCW Thunder
On this day in 1998, Ted Turner's World Championship Wrestling aired the first ever episode of their new TV show 'WCW Thunder'.
Here's the entire card from that night:
01. Randy Savage vs. Chris Adams
02. Rick Martel vs. Louie Spicolli
03. Hiroyoshi Tenzan vs. Michiyoshi Ohara
04. Ric Flair vs. Chris Jericho
05. The Giant vs. Meng
06. Bill Goldberg vs. Steve McMichael
07. Steiner Brothers vs. Buff Bagwell & Konnan
08. Ray Traylor vs. Scott Hall
09. WCW World Cruiserweight Title: Juventud Guerrera vs. Ultimo Dragon
10. Lex Luger vs. Scott Norton
11. WCW United States Heavyweight Title: DDP vs. Kevin Nash
You can watch this episode below:
• Raw Star Busted Open Profusely During Title Match
During tonight's WWE Cruiserweight Championship match on Raw, Enzo Amore got busted open after getting hit in the face with a kick. Enzo was left laying outside the ring and was counted out and Cedric Alexander won the match via count-out, but Enzo remains the Cruiserweight Champion.
You can check out Enzo bleeding below:
Beauty. #RAW #CruiserwerightTitle @CedricAlexander pic.twitter.com/iiO1rnPTol

— Italo Santana (@BulletClubItal) January 9, 2018
#RAW pic.twitter.com/VP6ogCJffz

— Italo Santana (@BulletClubItal) January 9, 2018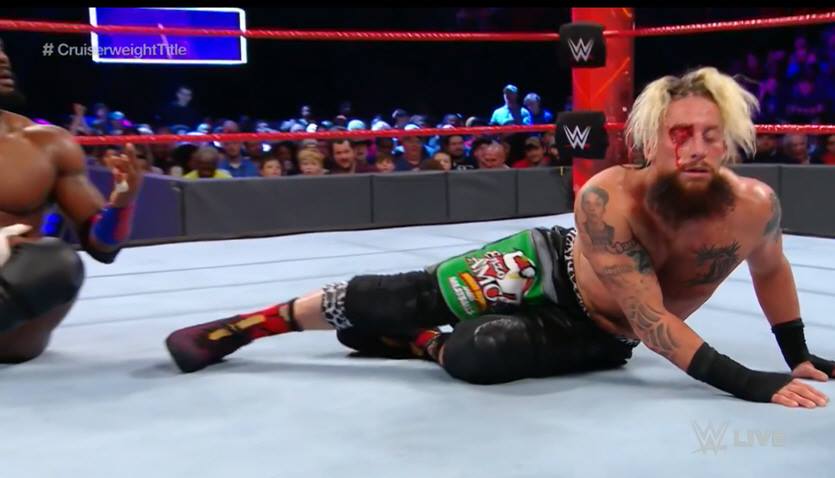 — World Wrestling News (@WWENewsMafia) January 9, 2018
• More Returns Announced For Raw 25 – Stone Cold Steve Austin, Scott Hall, DX & More
A new promo for the 25th anniversary episode of Raw aired on tonight's episode of Raw and the following names were advertised for Raw 25:
– The Undertaker
– DX
– Jim Ross
– Jerry "The King" Lawler
– The Dudley Boyz
– Ric Flair
– Scott Hall
– Kevin Nash
– Bella Twins
– New Age Outlaws
– APA
– "Stone Cold" Steve Austin
Below is the latest promo for Raw 25:
The celebration is ON… #RAW25 pic.twitter.com/y9S2c3DkEe

— WWE (@WWE) January 9, 2018