• Real Reason Behind WWE Introducing RAW Underground & RETRIBUTION
During an appearance on Legion Of RAW podcast, former WWF writer Vince Russo revealed that WWE introduced RAW Underground and RETRIBUTION because USA Network wasn't happy with RAW's viewership numbers (which have been below 2 million for the better part of 2020).
Here's what Russo said:
"I gotta tell you something, I'll give you a little inside information and this isn't second, third, fourth, fifth hand information. This is Vince Russo information and I can't tell you how I got this information, okay? But I will tell you this, I've got information direct from a good source, this isn't second, third, fourth hand.
About 6 months ago, USA Network let it be known to WWE, they were not happy. 'We're not happy with these numbers, with what we're paying for this show, we're not happy with the creative'. They were not happy about a lot of things, okay?
So the WWE came back to USA and pitched the two big creative storylines that were going to boost the ratings and get them headed in the right direction.
When I heard this at that time I laughed, like I laughed when I heard it. But this is what they sold USA on – the big two story ideas – bro, do you know what they were? RETRIBUTION and RAW Underground. Those were the two ideas they sold the USA Network on.
Look at those two ideas. I mean, could they have been any worse? Could they have come up with anything worse than what they promised that network?"
WATCH: Old Revealing Video Of Asuka (Part 1):
You can download our official WrestleFeed mobile app to check out more Wrestling news & Divas content. Tap here to download.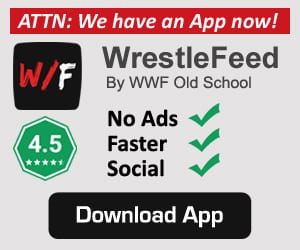 • Old School WCW Veteran Celebrates His Birthday
Old School WCW Veteran Nitron aka Big Sky (Tyler Mane, real name: Daryl Karolat) turns 54 today.
After he was known as Woman's on-screen bodyguard Nitron in 1989 & 1990, he returned to World Championship Wrestling in 1993 as Big Sky, occasional Tag Team partner of Vinnie Vegas (Kevin Nash).
Tyler Mane retired from professional wrestling in 1996 and became a Hollywood actor, starring as Michael Myers in the Halloween 1 & 2 remakes in 2007 and 2009.
HAPPY BIRTHDAY BIG SKY!