• OLD SCHOOL HISTORY (April 23, 1989) – WWF Wrestling Challenge
On this day in 1989, the World Wrestling Federation aired an episode of their weekly TV show 'WWF Wrestling Challenge'.
It was broadcasted from the War Memorial in Syracuse, New York and featured pre-taped matches, promos & storyline segments on the road to the 'WWF SummerSlam 1989' PPV.
The card can be found right here:
– The Ultimate Warrior vs. George South
– The Brooklyn Brawler vs. Tony Durante
– The Rockers vs. Chris Duffy & Garry Royal
– Ted DiBiase vs. Cougar Jay
– Jim Neidhart vs. Paul Fine
– The Bushwhackers vs. Max McGiver & John Wise
– The Honky Tonk Man vs. Gene Ligon
WATCH: Natalya Suffers Wardrobe Malfunction:
• Reason Behind CM Punk's Recent Indy Appearance Revealed
Former WWE wrestler CM Punk returned to Wrestling at Friday's MKE Wrestling event 'The Last Knight' in West Allis, Wisconsin under a mask and delivered a GTS (Go To Sleep).
ROH wrestler and founder of MKE Wrestling, Silas Young, confirmed on Twitter that the man under the mask was indeed CM Punk.
Last night we held @MKE_Wrestling at the Knights of Columbus building in west allis the place was packed with 350 people. This place has had 25+ years of wrestling and is the place a lot of guys started. Guys like @ColtCabana as well as a Punk who showed up in a mask last night

— silas young (@lastrealmanROH) April 20, 2019
The masked man was sporting the same hoodie that Punk was wearing earlier in the day at a BJJ tournament: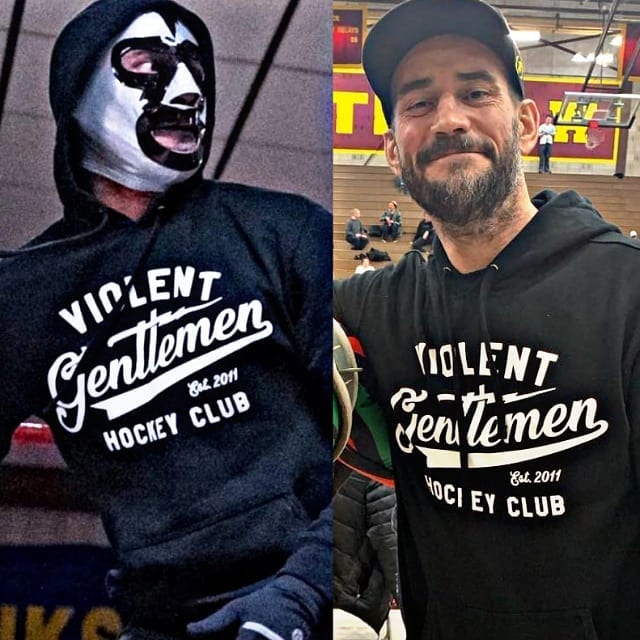 You can watch Punk's return below:
According to Wrestlinginc, the original plan for Punk at this event was for him to unmask and reveal himself, but that didn't end up happening.
Punk was waiting in his car outside the venue until he made his appearance and then immediately left.
Silas Young appeared on Busted Open Radio and talked about why Punk appeared at the event:
"That's the building where [Punk] kinda got his start at. Shortly before that match happened, my wife came up to me because she was one of the managers in the match. She was like, 'I heard Punk's going to do a run in.'
It made sense with the match being with Ace Steele and having Dave Prazak involved, those guys are longtime friends and they broke in the business [together].
Punk had maybe his first match in that building. That building has had wrestling for years, a lot of guys got their start there. Unfortunately it's going to be torn down early next month so we were the last event there. I think it's just one of those things where he wanted to pay a little respect or a little homage to it.
[Punk] was never at the building beforehand, he wasn't at the building after. He came, did the run-in in a mask and then left in a mask."