• ON THIS DAY IN WWF HISTORY (September 1, 1984) – WWF Superstars of Wrestling
On this day in 1984, the World Wrestling Federation aired an episode of their weekly TV show 'WWF Superstars of Wrestling'.
This was the original third nationally syndicated show that later became known as "WWF Wrestling Spotlight" after the August 30, 1986 episode.
NOT to be confused with the famous weekly "WWF Superstars of Wrestling" TV show, that eventually took over WWF Championship Wrestling in September 1986 and ran until 1997 (before becoming a recap/highlights show that ran till 2001).
Here's the match-card:
– Big John Studd vs. Bob Marcus
– Ken Patera vs. John Bonello
• Renee Young Gives 2 Major Reasons Why She Left WWE
While speaking to Sports Illustrated, former WWE announcer Renee Young discussed her departure from WWE and why she decided to leave the company.
She said that WWE's reaction to her announcing that she caught COVID-19 along with WWE Backstage (on FS1) getting cancelled led to her departure.
"I'm at home, I get my diagnosis, that same day I found out that Backstage gets cancelled. But it was really with Backstage being cancelled that I was like, 'What am I doing? I'm not really doing anything anymore and my skillset of being a host…there's just nowhere for me to do it anymore.
Even with Talking Smack coming back, I had heard the rumblings that Talking Smack was making its way back, I was planning on perhaps doing that. But I was like, 'You know what? I feel like I'm taking steps backward. I'm sorta spinning my wheels to go back and do a show. To not be doing it with Daniel Bryan. To not be doing it with Mike Mansury, who also is no longer with WWE. But that was sort of the magic of what that show was to me."
She added that stepping away from commentary on RAW had left a bad taste in her mouth, so she was happy to get something new to do at FOX when she was made the host of Backstage.
Once she decided to leave after the cancellation, Young informed Michael Cole of the decision and said no one really tried to talk her out of it because they had seen her frustrations build over the years.
She also felt like going back to SmackDown to do backstage interviews again felt like a step back and noted that she made several pitches for how to be used as a special correspondent for the brand after being named as such last year.
This included being used like UFC's Megan Olivi or becoming the "host" of SmackDown every week.
On why she announced that she caught COVID-19:
"When I tweeted that I had it, I wasn't doing it as a like, ::angry tone:: 'I GOT COVID, and dah dah dah!' That was not my M.O. when I tweeted it. It was mostly just like, 'Hey. I have it. Also, in case there could've been people that could've been around me, and maybe seen that I had it, I felt a responsibility to make sure people knew that I was sick. But yeah, it was…not well-received."
On WWE's reaction to it:
"Well I tweeted it in the evening west coast time. So by the time I woke up was like a couple texts. You shouldn't…not even that like you shouldn't have posted it, but it was like, 'We really wish that you gave us a heads up that you were gonna post it.' It was, you know, bad for PR and whatnot. But again, I just like, I wouldn't have even thought to be like, 'Hey guys, I'm gonna tweet that I have COVID!' That was just not what I was thinking about when I posted about it."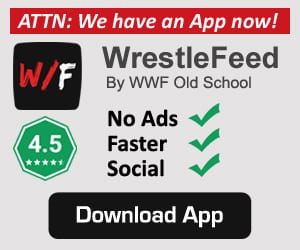 WATCH: Revealing Video Of Renee Young:
You can download our official WrestleFeed mobile app to check out more Wrestling news & Divas content. Tap here to download.