• RETRIBUTION Leader T-BAR Takes A Shot At Chris Jericho
As we noted earlier, former AEW World Champion Chris Jericho questioned RETRIBUTION leader T-BAR's explanation of WWE giving contracts to his group.
Le Champion had quoted T-BAR's tweet with "Huh?"
T-BAR has now fired back at Jericho by posting a screenshot of headlines from news sites, which state that Jericho's Fozzy concert during the Coronavirus pandemic may have led to 250,000 new cases of the virus rising in the USA.
He captioned it "Huh?" as well.
MACE then took a jab at Jericho by telling people to wear a mask in the replies.
P̒ͮ̚͜L̢̔E͠Ȃ̂̔͝S̈͋E̔ͩͥ́ COͫŅ͐SID̂ͥ̒ER̅̉̔
WE̎ͨ̓AR̀ͪIN̑̏̌G̴ Ả̊ ̶Ḿ̧̀ͩAS̽̕Ḱ̢ͤ

— M̭̦̥͖̞̟̯̹A̲̮͎͚ͅC͇̞̹͕͎̪̟̜̱͈E̹̭͎̗̣̱̤̯̠̮̮̤̪̘͓ͅ (@RETRIBUTIONMACE) September 26, 2020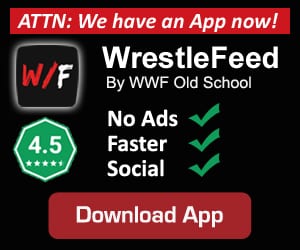 WATCH: Maryse's Big Juggs In Green Dress – Part 1:
You can download our official WrestleFeed mobile app to check out more Wrestling news & Divas content. Tap here to download.
• On This Day In Pro Wrestling History (September 26, 1999) – WWF Unforgiven 1999
On this day in Pro Wrestling history on September 26, 1999, the World Wrestling Federation aired 'WWF Unforgiven 1999' LIVE on PPV from the Charlotte Coliseum in Charlotte, North Carolina.
"Stone Cold" Steve Austin did not wrestle, but worked as a special outside enforcer for the pay-per-view's main event.
Here are the results from that night:
Val Venis defeated Steve Blackman
WWF European Championship: D'Lo Brown defeated Mark Henry (c)
WWF Intercontinental Championship: Jeff Jarrett (c) defeated Chyna by DQ
The Acolytes defeated The Dudley Boyz
Hardcore match – WWF Women's Championship: Ivory (c) defeated Luna Vachon
WWF Tag Team Championship: The New Age Outlaws (c) defeated Edge & Christian
Kennel from Hell – WWF Hardcore Championship: Al Snow (c) defeated The Big Boss Man
X-Pac defeated Chris Jericho by DQ
Six-Pack Challenge – Vacant WWF Championship: Triple H defeated Big Show, The British Bulldog, Kane, Mankind and The Rock