• Return Date For Brock Lesnar
"The Beast" Brock Lesnar has accomplished a lot this year in WWE and it's only April.
He won the WWE Championship twice, won the Men's Royal Rumble match for the second time in his career, competed in his 1st ever Elimination Chamber match and won it, finally faced Bobby Lashley and main evented WrestleMania.
He lost the WWE Championship to Universal Champion Roman Reigns in the main event of WrestleMania 38 – Night 2.
Brock was being advertised for the WrestleMania Backlash 2022 premium live event on May 8th at the Dunkin' Donuts Center in Providence, Rhode Island.
However, WWE is no longer advertising him for this event. They updated their Events listing page on their website and Brock has been pulled.
Now the question is – what's next for Cowboy Brock and when will he return?
According to PWInsider, WWE is planning to bring The Beast back for the Money In The Bank 2022 premium live event on July 2nd.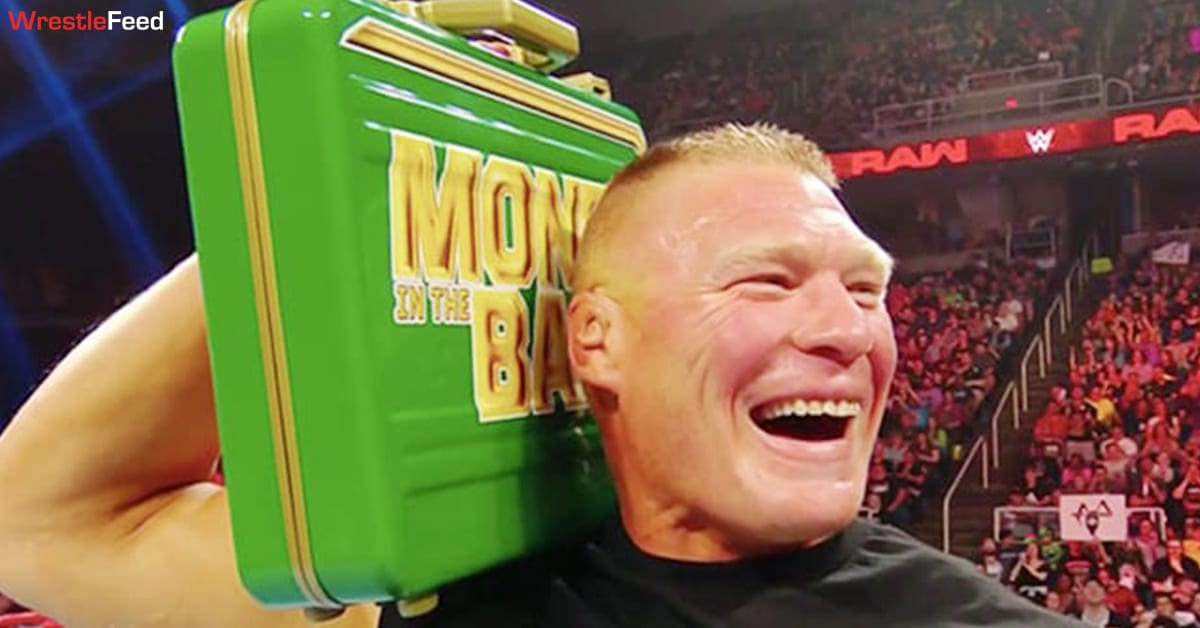 This year's Money In The Bank will be the biggest MITB event to date because it takes places at the Allegiant Stadium, the same venue where SummerSlam 2021 took place.
WWE wants to ensure they sell out the stadium and that's when they plan on bringing back Lesnar.
No word yet on what Brock's role or storyline is going to be, but sources have reported that the Reigns – Lesnar feud is officially over.
Also Read: "They wanted to kill me" – WWE Star On His 1st Match With Brock Lesnar
WATCH: Mickie James' Exposed Buns:
• On This Day In Pro Wrestling History (April 13, 1990) – WWF/AJPW/NJPW Wrestling Summit
On this day in Pro Wrestling history on April 13, 1990, the WWF/AJPW/NJPW Wrestling Summit was broadcasted from the Tokyo Dome in Tokyo, Japan and aired live on Japanese television.
This was a co-produced show by Vince McMahon's World Wrestling Federation, Antonio Inoki's New Japan Pro Wrestling and Giant Baba's All Japan Pro Wrestling.
Here are the results from the event:
Dan Kroffat, Doug Furnas & Joe Malenko defeated Samson Fuyuki, Tatsumi Kitahara & Toshiaki Kawada
Jushin Thunder Liger defeated Akira Nogami
Jimmy Snuka & Tito Santana defeated Kenta Kobashi & Masanobu Fuchi
Bret Hart wrestled Tiger Mask to a time-limit-draw
The Great Kabuki defeated Greg Valentine
Jake Roberts defeated The Big Boss Man
IWGP Tag Team Title Match: Masa Saito & Shinya Hashimoto (c) defeated Masahiro Chono & Riki Choshu
Jumbo Tsuruta & King Haku defeated Mr. Perfect & Rick Martel
Genichiro Tenryu defeated Randy Savage
WWF World Heavyweight Title Match: The Ultimate Warrior (c) defeated Ted DiBiase
Non-Title match: Andre The Giant & Giant Baba defeated Demolition (c)
Hulk Hogan defeated Stan Hansen (12:30)