• "Roman Reigns is being booked correctly because Paul Heyman is directing that ship" – WWE Hall Of Famer
During a recent edition of Grilling JR podcast, Jim Ross talked about how Universal Champion Roman Reigns is currently booked in the WWE as a Heel, managed by Paul Heyman.
Here's what the 2007 WWE Hall of Famer said about the successful Wrestler/Manager duo:
"Roman Reigns is being booked correctly because Paul Heyman is directing that ship and making sure they don't get ahead of themselves. Heyman's got the track record and the knowledge and the communication skills to see that that happens.
There's a filter between Roman Reigns and Vince and that's Paul.
As time goes on, Reigns will take more of that leadership role over, he'll become more involved in him."
Then J.R. also discussed the art of commentary, something he has been doing for various promotions since the mid-70s, including World Championship Wrestling, the World Wrestling Federation (later WWE) and now All Elite Wrestling.
Here's what Ross said:
"Sometimes I have a big issue with commentary to this day, I've had it forever, one is talking through false finishes. How do we know it's a false finish and not the finish unless we know the finish?
All of a sudden we just talk through those false finishes because we know it's not the finish.
The other thing is the friggin' use of pronouns.
I know we've made fun of Vince about that, but one of the best things Vince taught me on commentary was to not over use pronouns.
Who is he? If I said, 'Conrad Thompson did, Conrad overcame the odds, he is the champion of the world', or I could say 'he did it, he's the champion of the world', it doesn't have the same stick.
I catch myself doing it and I hate it. The best way to get talent over, and that's the only job a broadcaster has is to get talent over, you do it with their names, nicknames.
I told a kid the other day who does commentary, texted me and wanted some help, he doesn't work for our company, AEW. I told him the most important job you've got is to put talent over and you've got different ways to describe the talent without it being a pronoun.
Chris Jericho could easily slide into a seat and be as good a color commentator as anyone in the business. He's preparing for that to some degree for what are you going to do in wrestling if you want to be in wrestling after you stop wrestling.
If you want those cheques to keep coming in, what other skill can you bring to the table? You damn sure could be a broadcaster and a TV show has got to have broadcasters.
The wrestlers need a soundtrack and that's what we're supposed to be doing."
WATCH: AJ Lee Teases Fans With Her Hot A$$:
You can download our official WrestleFeed mobile app to check out more Wrestling news & Divas content. Tap here to download.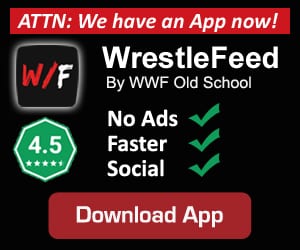 • On This Day In Pro Wrestling History (February 23, 1990) – WWF The Main Event 3
On this day in Pro Wrestling history on February 23, 1990, the World Wrestling Federation aired 'WWF The Main Event 3' LIVE on NBC.
Buster Douglas replaced the originally scheduled guest referee Mike Tyson in the WWF World Title match, after Douglas k.o.'d Tyson in a Boxing match 12 days earlier.
The results of the show were:
– WWF World Heavyweight Championship: Hulk Hogan (c) defeated Randy Savage
– WWF Intercontinental Championship: The Ultimate Warrior (c) defeated Dino Bravo