• Old School WWF Legend Celebrates His Birthday
Old School WWF Attitude Era Legend Edge (Real name: Adam Copeland) turns 46 today.
He joined the World Wrestling Federation in 1998 at the peak of the famous Attitude Era and soon ended up in a Tag Team with his childhood friend Christian.
Together they defined the Tag Team Division of that era with especially their rivalries against The Dudley Boyz and The Hardy Boyz standing out.
During the Ruthless Aggression Era, Edge became known as "The Rated-R" Superstar, one of the most memorable and most evil heels of the 2000s.
That character finally led him to several World Title reigns, but unfortunately Edge had to retire in 2011 due to an injury.
In 2012, he was inducted into the WWE Hall of Fame by his life-long friend Christian.
HAPPY BIRTHDAY EDGE!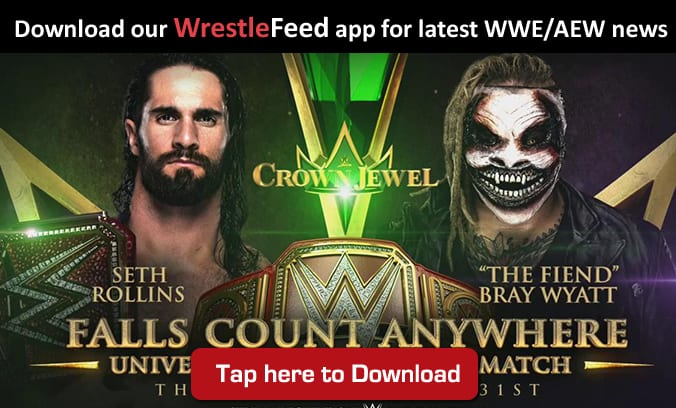 • Roman Reigns Says He's The Best Superstar Of This Generation, Natalya & Lacey Evans React To Their Match At Crown Jewel 2019
During today's WWE Crown Jewel Press Conference, WWE Superstars had a face-off with their respective opponents and the wrestlers of the main and co-main event had a weigh-in as well.
Below are the results from the weigh-in:
– WWE Championship Match (Main Event)
Brock Lesnar (c) – 286 lbs
Cain Velasquez – 250 lbs
– Co-Main Event
Braun Strowman – 385 lbs
Tyson Fury – 260 lbs
During the Team Hogan and Team Flair face-off, "The Big Dog" Roman Reigns talked about his relationship with WWE Hall of Famer Hulk Hogan and showed the following photo of him with Hogan during WWF's Golden Era in the 80s: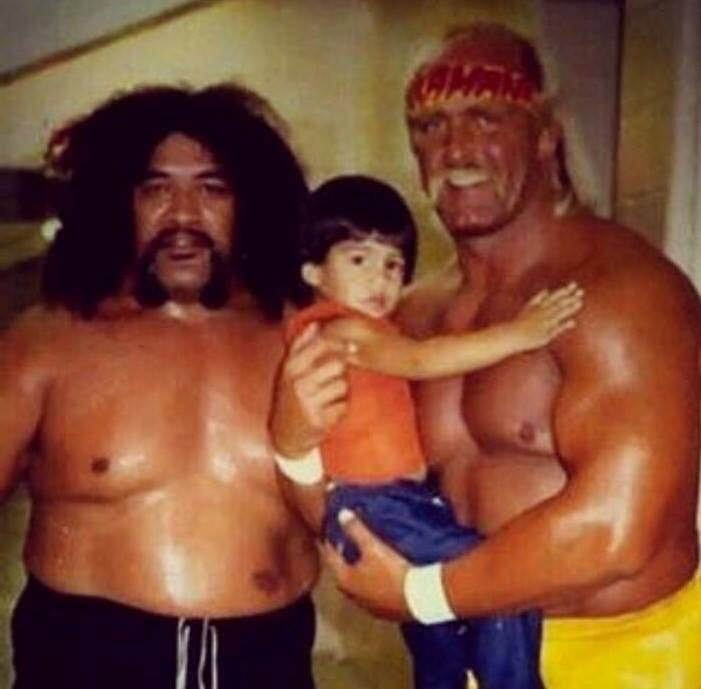 Reigns then said that Hogan made the right choice by choosing the 'Greatest Superstar of this Generation' to be the captain of his team because he has beaten every member of Team Flair.
Reigns then talked about Randy Orton bringing up Evolution during his speech earlier (which Ric Flair was also a part of). Reigns pointed out how his faction, The Shield, has beaten Evolution twice.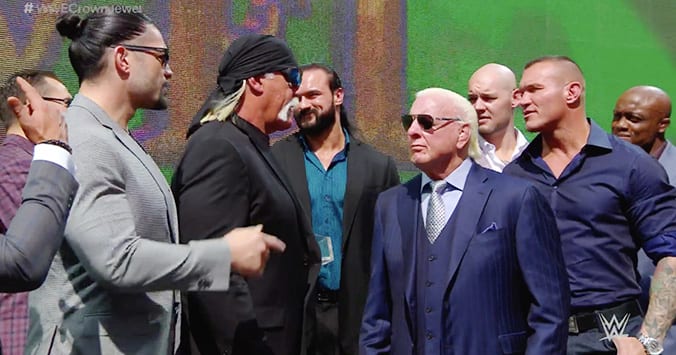 Also during this press conference, Michael Cole announced that the first ever women's match in Saudi Arabia will take place at Crown Jewel 2019 – Natalya vs. Lacey Evans.
Below is what Natalya & Lacey tweeted about this:
The world will be watching. I am so incredibly proud to represent our women's division tomorrow night at #WWECrownJewel. It's time to bring your best, Lacey. pic.twitter.com/TeglMWzbZM

— NattieByNature (@NatbyNature) October 30, 2019
I never thought I'd have the opportunity to do the things I've done with @WWE. Tomorrow I get to show my little girl that hard work can bring you to history-making heights. I'm ready for this. ❤? #WWECrownJewel pic.twitter.com/myQWjd9i5W

— Lacey Evans ~ WWE Superstar (@LaceyEvansWWE) October 30, 2019
You can watch the entire WWE Crown Jewel 2019 media event below:
Also Check Out: Brock Lesnar Helps Hulk Hogan & Ric Flair Get To Saudi Arabia, Male & Female WWE Wrestlers Arrive For Crown Jewel 2019 (Video)
WATCH: Former WWE Diva Brooke Adams Exposes Her Buns: