This is part 2 of our Royal Rumble 2020 live coverage (part 1 is here).
Up next is the Women's Royal Rumble 2020 match.
Alexa Bliss is the #1 entrant. NXT's Bianca Belair is #2. Attitude Era wrestler Mighty Molly enters the match at #3 and Nikki Cross enters at #4.
#5 is Lana! Lana comes out with a microphone and calls herself the greatest superstar in the world and calls the fans losers. She says she's gonna win this match for her hot husband, Bobby Lashley.
#6 is Mercedes Martinez. #7 is Liv Morgan and she immediately eliminates Lana!
Eliminated: Lana
Mercedes tries to eliminate Liv, but Liv fights back. Liv goes to the top rope, but Lana pulls her down and eliminates her!
Eliminated: Liv Morgan
They fight on the outside and had to be separated by the referees. They're going to face each other in a singles match tomorrow night on RAW.
#8 is Mandy Rose. #9 is Candice LeRae from NXT.
Eliminated: Mighty Molly
Alexa throws Mandy over the top rope, but she lands on Otis (who was laying outside) and she stands on top of Otis and is not eliminated!
You can check it out below:
.@WWE_MandyRose is saved by… @otiswwe?!

➡️ https://t.co/NsQTgz3q4X pic.twitter.com/7YafzC0F4w

— TDE Wrestling (@tde_wrestling) January 27, 2020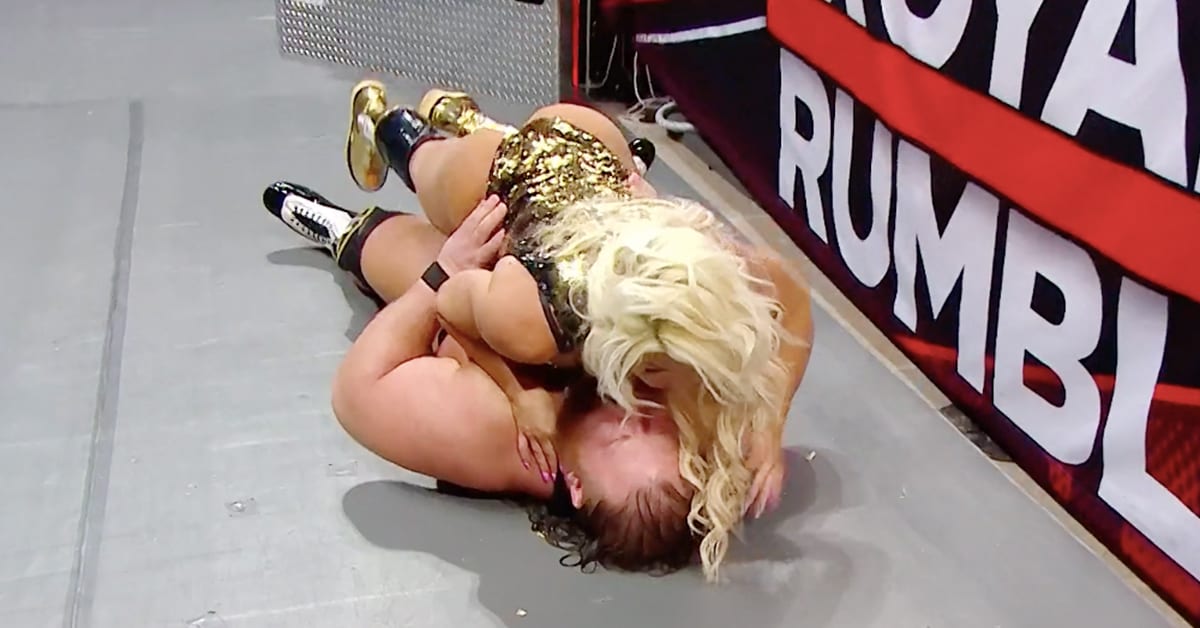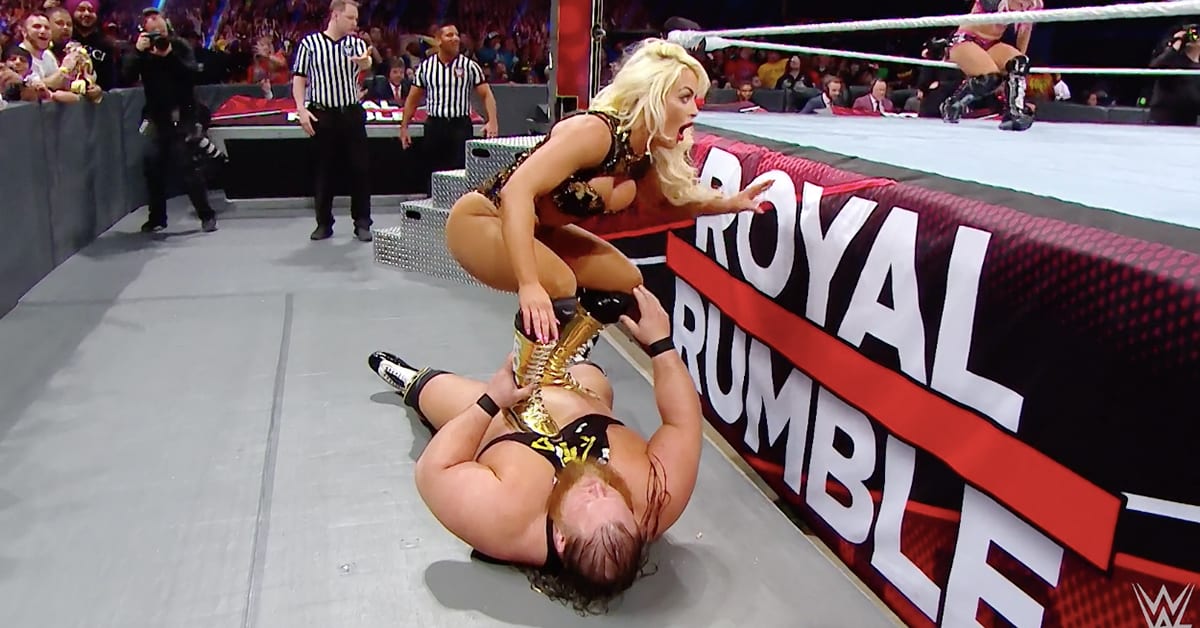 #10 is Sonya Deville
Eliminated: Mercedes Martinez
#11 is Kairi Sane. #12 is Mia Yim.
Eliminated: Nikki Cross
Otis saves Mandy again, but Sonya also falls on top of them and they both get eliminated.
Eliminated: Mandy Rose
Eliminated: Sonya Deville
#13 is Dana Brooke.
Eliminated: Candice LeRae
#14 is Tamina Snuka. She gets eliminated by Bianca. Bianca has now eliminated 6 wrestlers in this match.
Eliminated: Tamina Snuka
#15 is Dakota Kai from NXT. #16 is Chelsea Green. Green eliminates Kai and then gets eliminated by Alexa.
Bianca then eliminates Dana to take her eliminations to 7.
Eliminated: Dakota Kai
Eliminated: Chelsea Green
Eliminated: Dana Brooke
Bianca then eliminates Alexa and she has now eliminated 8 wrestlers!
Eliminated: Alexa Bliss
#17 is Charlotte Flair. #18 is former SmackDown Women's Champion Naomi, who makes her return with a new hairstyle.
#19 is WWE Hall of Famer Beth Phoenix. #20 is Toni Storm from NXT UK.
Charlotte Flair hits Bianca Blair with a kick (who was on the top rope) and she gets eliminated.
Eliminated: Bianca Belair
#21 is former WWE Divas Champion Kelly Kelly! Kelly Kelly delivered a Stink Face to Toni Storm in the corner!
#22 is Sarah Logan. This is her 3rd Royal Rumble match and Charlotte takes her out immediately.
Eliminated: Sarah Logan
Charlotte then punches Kelly Kelly out of the ring.
Eliminated: Kelly Kelly
#23 is Natalya. Beth is bleeding from the back of her head. Natalya & Beth team up to Powerbomb Charlotte in the middle of the ring.
#24 is Xia Li. She is WWE's first ever female signee from China. #25 is Zelina Vega and #26 is Shotzi Blackheart from NXT.
.@NaomiWWE saves herself. #RoyalRumble pic.twitter.com/lIiKnT9ZRM

— Italo Santana (@BulletClubIta) January 27, 2020
#27 is Carmella. Charlotte Flair fell out of the ring, but she fell through the ropes, so she isn't eliminated.
#28 is Tegan Nox from NXT. She enters the ring and Chokeslams Zelina.
#29 is Santina Marella! Santina tries to hug Beth Phoenix, but Beth is angry. Santina sets up the Cobra, but is still afraid to attack either Beth or Natalya, so she (he) eliminates herself.
#30 is former 2 time NXT Women's Champion Shayna Baszler.
Eliminated: Tegan Nox
Eliminated: Shotzi Blackheart
Eliminated: Carmella
Eliminated: Toni Storm
Eliminated: Naomi
Baszler has now eliminated 7 wrestlers in a matter of minutes!
Natalya & Beth hit Shayna with a Hart Attack and Beth then turns on Natalya & eliminates her!
Eliminated: Natalya
Charlotte tries to eliminate both Shayna & Beth, but fails. Charlotte & Shayna are preparing to square off, but Beth interrupts.
Shayna eliminates Beth.
Eliminated: Beth Phoenix
Charlotte eliminates Shayna with her legs and wins the match.
Eliminated: Shayna Baszler
Charlotte Flair Wins The Women's Royal Rumble 2020 Match
NEXT STOP: @WrestleMania.

Congratulations, @MsCharlotteWWE!!! #RoyalRumble #WomensRumble pic.twitter.com/v0LIJQSvjH

— WWE (@WWE) January 27, 2020
WATCH: WWF Diva Sable's Bare Buns Exposed: