• Old School ECW/WWF Veteran Celebrates His Birthday
Old School ECW/WWF Veteran The Blue Meanie (Real name: Brian Heffron) celebrates his 46th birthday today.
The Blue Meanie wrestled for Extreme Championship Wrestling from 1995 to 1998 and then joined the World Wrestling Federation during the Attitude Era in 1998.
Meanie left the WWF in 2000 and returned to ECW later that year after losing more than 100 lbs of weight.
He returned for the ECW One Night Stand in 2005 and even wrestled The Mexicools at the 'Great American Bash 2005' PPV, teaming up with his bWo buddies Big Stevie Cool (Stevie Richards) & Hollywood Nova (Simon Dean).
HAPPY BIRTHDAY BLUE MEANIE!
• Ryback Claims WWE Gives Its Wrestlers Multiple Drugs To Keep Them Going
Ryback recently posted a photo of a document that WWE sent him a few years ago where they threatened him. Below is what Ryback tweeted about it:
This is just 1 Document from @wwe where they tried to threaten me to HAND OVER all my Social Media accounts that I created. I have spoke the truth ? percent on everything and have no reason to lie. Why would a multi billion dollar company need my social media you ask? #Power pic.twitter.com/0SlEHSwzSs

— The Big Guy (@Ryback22) May 11, 2019
You can check out the complete photo below: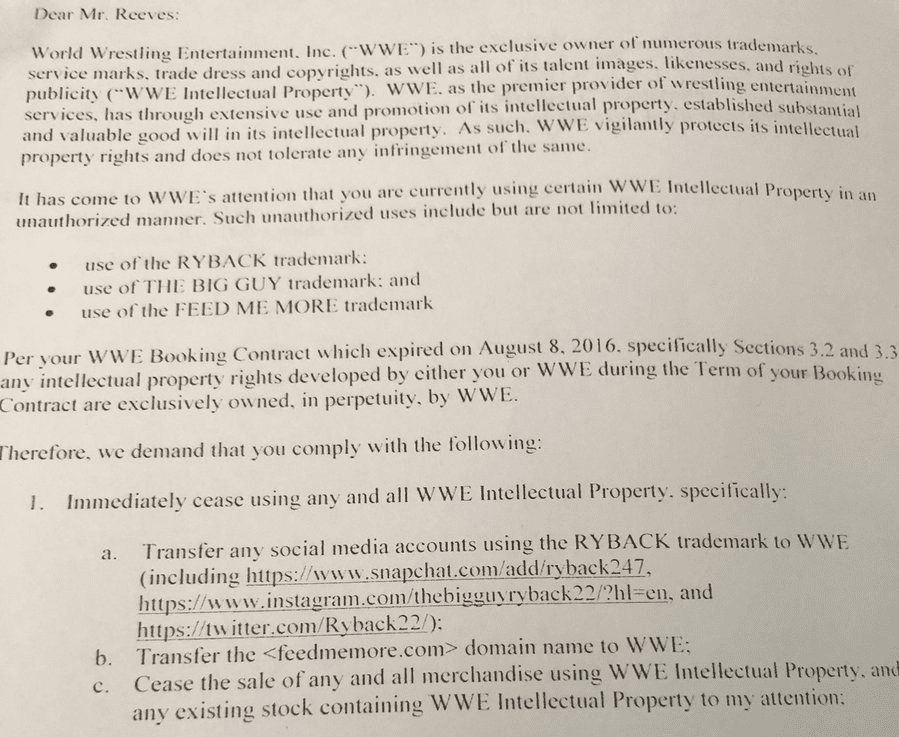 100 percent. The entire system is wrong and after they attempted to fire me after their botched ankle surgery with me and forced me to drop the malpractice suit with my job before Punk Match I vowed I was going to be vocal on change. I waited until I got enough money and left. https://t.co/0cqkR7wYS4

— The Big Guy (@Ryback22) May 11, 2019
Ryback is bringing up points regarding why wrestlers need to be protected from WWE and below is what he tweeted regarding this:
See a lot of people arguing over the document. Again this was in 2016, and I'm the registered owner of The Big Guy and Feed Me More, which I created before WWE. My legal name is Ryback Reeves, Ryback was created before WWE and there is video documentation of this. The point of

— The Big Guy (@Ryback22) May 12, 2019
All of this was to show how they DEMANDED the social media accounts. They didn't and don't want me talking, and for good reason. I stand by everything I have said from day 1 and only want a better environment for the talent that hold @wwe together. Change will come.

— The Big Guy (@Ryback22) May 12, 2019
So many are misinformed and so angry over things that aren't facts. Your hate and energy is wasted over false beliefs. I speak up for my friends & those who came before because I care and I know, just like everyone inside those walls does. Quit putting @wwe on a pedestal.

— The Big Guy (@Ryback22) May 12, 2019
I'm not bitter, I'm motivated. I walked away by choice and am free to make a difference where I can't be punished inside their walls. They have personally gone out of their way to hurt me while there and gone, and yes it's personal, but the system needs to change for all.

— The Big Guy (@Ryback22) May 12, 2019
I say THANK YOU to everyone who cares about this and can look at it in an intelligent way. We can make a difference TOGETHER in 2019. Hate will not stop this mission and @wwe will be forced to change. Wrestlers ARE @wwe the logo is meaningless without the talent to support it.

— The Big Guy (@Ryback22) May 12, 2019
As for last contract signed I was given a contract behind closed doors and point blank told "sign it or else" by @TheHeaterMC who is also a Notary, go figure. The system needs to change, and the wrestlers need protection from @wwe and manipulation at all levels.

— The Big Guy (@Ryback22) May 12, 2019
Ryback went on to tweet about other things WWE does that the fans might not know about – give multiple drugs to their wrestlers to keep them going:
Another MAJOR issue is the company pumping talent full of Cortisone, Toradol and other drugs to keep talent going week to week wrestling 4-5 times at a high level. There is a better way than their current model and it must be found. https://t.co/C837sJVffj

— The Big Guy (@Ryback22) May 16, 2019