• Samoa Joe Chokes Out Top NXT Wrestler
NXT General Manager William Regal kicked off tonight's NXT. He's emotional and remembered all the good times he has spent in the black-and-gold brand in the last 7 years.
Regal then said he doesn't think he's capable of giving the fans what they want anymore.
This led to NXT Champion Karrion Kross and Scarlett coming out. Kross said we knew this day would come and he wants to feel this moment. Kross then asked if Regal is crying right now, and then called him pathetic.
Kross says he wants Regal to tell everyone that he's leaving and then walk up the aisle and never come back. Kross wants him to say that he was right and he conquers all.
Samoa Joe then came out! That's right, the former NXT Champion is back!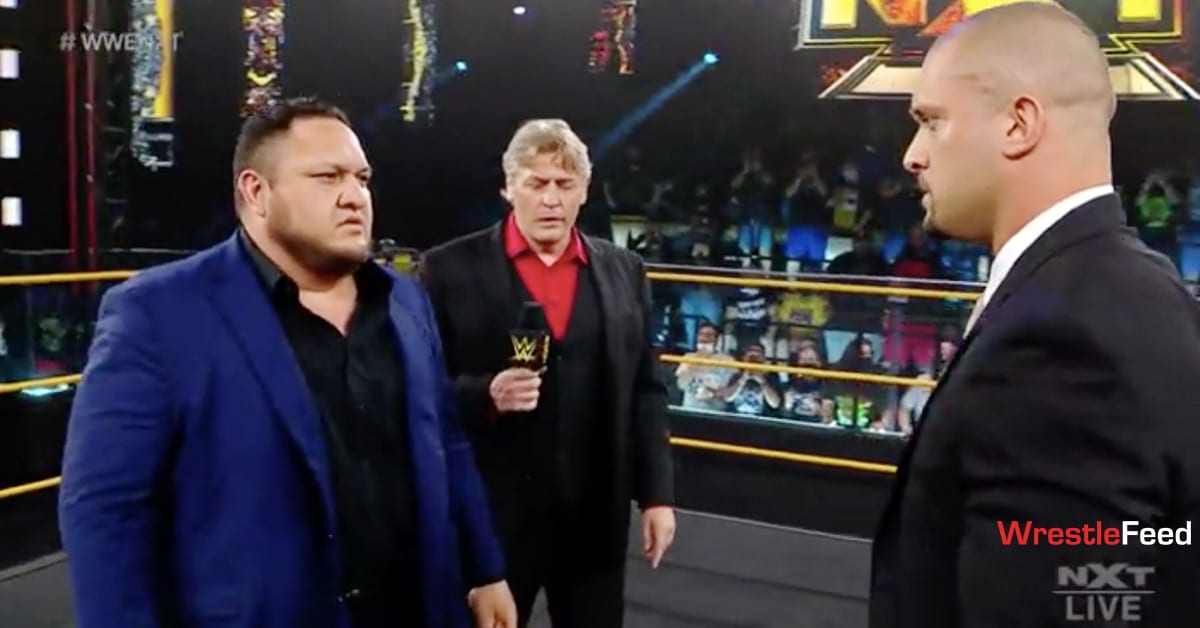 Regal said he wants Joe to be the new NXT General Manager, but Joe declined the offer. Joe then talked about what Regal has done for this brand and he can't fill his shoes.
However, Joe said he'll make sure Regal gets the respect that he deserves while looking at Kross.
Regal agreed, but said Joe can't be a competitor and can't put his hands on anyone, unless provoked.
Joe then got in Kross' face and asked what's he still doing in this ring. Kross & Scarlett then left, and Joe & Regal shook hands.
"Tick Tock, young champion." @SamoaJoe, oh how we've missed you. #WWENXT #WeAreNXT @WWEKarrionKross @Lady_Scarlett13 pic.twitter.com/A7xr12orx3

— WWE NXT (@WWENXT) June 16, 2021
Adam Cole and Kyle O'Reilly got into a brawl backstage. William Regal announced they will face off in an Unsanctioned Match at NXT Great American Bash.
Cole provoked Joe by pushing him during his brawl with O'Reilly, so Joe choked him out with the Coquina Clutch.
10 minutes on the job, and someone has already provoked @SamoaJoe.

Unruly behavior will not be tolerated in @RealKingRegal & @SamoaJoe's #WWENXT! @AdamColePro @KORcombat pic.twitter.com/mPMK9V09V8

— WWE NXT (@WWENXT) June 16, 2021
WATCH: Stephanie McMahon Forcefully Kissed:
• On This Day In Pro Wrestling History (June 15, 2016) – Old School Territory Legend Passed Away
On this day in 2016, we lost Old School Territory Legend Gypsy Joe (Real name: Gilberto Meléndez) at the age of 82 due to complications following an extended illness.
If you have never heard of this man before, then we strongly suggest you look him up online, because Gypsy Joe holds the world record for the longest Professional Wrestling career ever in the history of the business, after performing in the ring for 60 (!!!) years from 1951 until he retired in 2011.
During his long career, he wrestled for several old school territories and independent promotions, but never made it to the big leagues, such as the World Wrestling Federation or World Championship Wrestling.
† REST IN PEACE GIPSY JOE
December 2, 1933 – June 15, 2016