Let us take a look at the top 8 WWE News & Professional Wrestling stories of the hour:
---
8. WWE Women's Champion Sasha Banks Gets Married
This update might have broken the heart of many wrestling fans. The new WWE Women's Champion, "The Boss" Sasha Banks, got married this Thursday evening. She got married to Sarath "Mikaze" Ton. The two got engaged last year.
Sasha's husband used to wrestle in NXT as well and has since been working in WWE as a seamster. Below is a pic of them: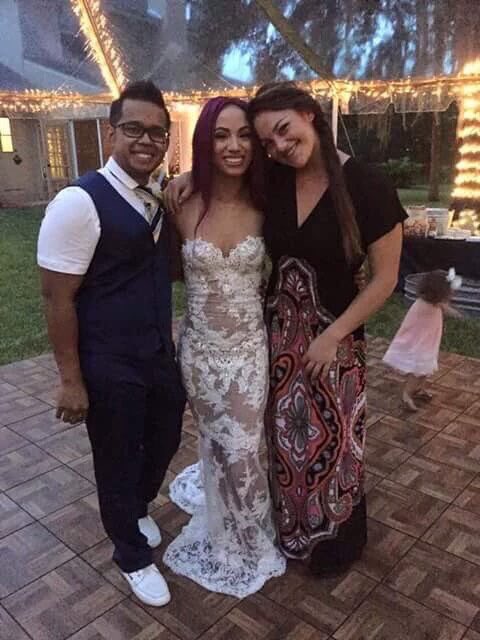 Sasha defend her newly won WWE Women's Championship against the former Champion Charlotte at SummerSlam 2016.
Sasha tweeting the following pic of the side plates of her Championship belt:
— notorious SB (@SashaBanksWWE) August 3, 2016
---
7. Big E Not Wrestling At SummerSlam 2016?
As we saw on Raw, WWE Tag Team Champion Big E suffered a storyline injury at the hands of Luke Gallows & Karl Anderson. It looks like WWE is building towards a story where Big E is not able to compete at SummerSlam 2016 and Kofi Kingston & Xavier Woods will be the ones to defend the Titles. As we noted before, The New Day are scheduled to the lose the WWE Tag Team Titles at this year's "Biggest Event of the Summer".
Below is a storyline update provided by WWE on Big E's "injury":
"WWE Tag Team Champion Big E suffered an injury at the hands of Luke Gallows & Karl Anderson following their match on Raw, WWE.com can confirm.
After Gallows & Anderson pulled Big E groin-first into the turnbuckle at the end of a post-match brawl between Gallows, Anderson and the entirety of The New Day, the WWE Tag Team Champion was taken to the trainer's room. He underwent several tests and medical examinations, but WWE officials did not confirm the specifics or severity of Big E's injury at this time.
UPDATE Aug. 5, 2016: WWE.com can now confirm that Big E suffered a contusion to the affected area. It is unknown at this time when the WWE Tag Team Champion will return to in-ring competition."