• ON THIS DAY IN WCW HISTORY (October 30, 1995) – WCW MONDAY NITRO
On this day in 1995, Ted Turner's World Championship Wrestling aired an episode of their weekly TV show 'WCW MONDAY NITRO'.
It was broadcasted LIVE from the Hara Arena in Dayton, Ohio and featured matches, interviews & storyline segments on the road to the 'WCW World War 3 1995' PPV.
The card can be found here:
1. Eddie Guerrero vs. Sgt. Craig Pittman
2. The Shark vs. Scott Norton
3. Sabu vs. Disco Inferno
4. Lex Luger & Meng vs. American Males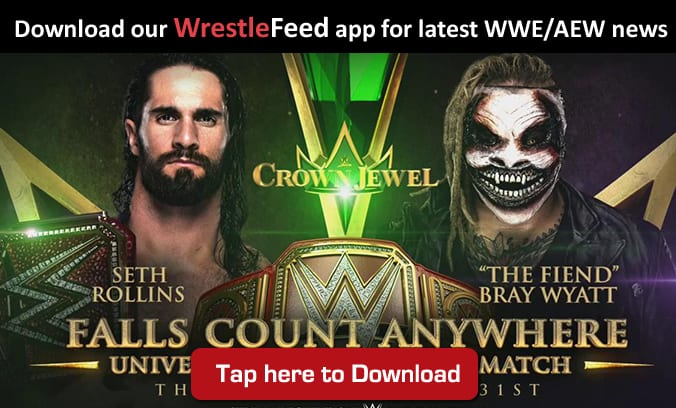 • Seth Rollins Reacts To Fans Hating On Him As Of Late
During an appearance on WWE's After The Bell podcast with Corey Graves, Universal Champion Seth Rollins talked about fans hating on him as of late, Kenny Omega, Hell In A Cell 2019 & more.
Below are the highlights:
On fans hating on him for becoming what they wanted him to be:
"You know you said 'internet darling' and the funny thing is you said it goes back to Tyler Black, but shoot, you could go back six months. You could go back a year ago from Hell In A Cell, you know what I mean. I was everybody's favorite.
Those are the same people who are panning Hell In A Cell and talking about how Seth Rollins is not cool were the same people who were clamoring for me to be the guy to take down Brock Lesnar going into WrestleMania.
I don't know what changed except for the fact that I became the person that they wanted me to be and then they hated me for it. So you know, it's a very fickle audience. It is what it is.
To answer your question directly it feels awful. It is not a good feeling to go out there and put your body on the line — and not just at Hell In A Cell, every single night for the past however many years I've been doing it.
I go out and compete at an extremely high level and dare I say that I'm one of the very best at my job and I do what I have to do when I have to do it and look, it's not always pretty, but you go out there and you do your job and you do it well. People don't like it, and it is what it is, but it hurts your feelings.
You're a human being. You go out there and work hard and it's fine. You can have your opinion on it, but it's a tough pill to swallow sometimes."
On the controversial ending to Hell In A Cell 2019:
"Yeah, controversial. It's kind of one of those things where you're like where do you go? What's the answer? It's like why, why, but if they don't get what they want they whine about it on Twitter, right?
I mean that's kinda what happens nowadays. That happens with everything, it's not just our industry, but if you do something and it strikes a chord it's almost like you're doing the right thing. I don't know anymore, it's a weird industry, dude. It's 2019 and I don't know what wrestling looks like anymore, it's a weird place, dude."
On his thoughts on AEW wrestler Kenny Omega:
"If I just sit there and say: 'Oh Kenny Omega, what a talent I would love to wrestle him someday – wha wha – that doesn't make a headline man, that's boring. That's boring, then JR's got nothing to talk about, so god — just let us hate each other, you know?
Look — Kenny's great. Kenny's never proven himself in WWE. So that's what I was saying. It is what it is. WWE is the top of the mountain. I'm the guy sitting on the top of the mountain. So if Kenny wants to come and like I said 'play in the major leagues and get out of the minor leagues' or whatever.
The bottom line is I'd love for Kenny to come to me, because I'm not going to him any time soon."
WATCH: Hot New Video Of Maryse's Juggs From Miz & Mrs: