• Old School WWF Legend Celebrates Her Birthday
Old School WWF Legend Wendi Richter celebrates her 57th birthday today.
She was the WWF Women's Champion during the famous Rock 'n' Wrestling era, winning the belt twice, first at MTV's 'The Brawl to End It All' event and for a second time at the first ever WrestleMania.
In 2010 Wendi Richter was inducted into the WWE Hall of Fame by fellow Rock 'n' Wrestling era veteran "Rowdy" Roddy Piper.
HAPPY BIRTHDAY WENDI RICHTER!
• SmackDown Draws Poor Attendance (Photo)
This week's episode of SmackDown Live drew poor attendance. Below is a photo: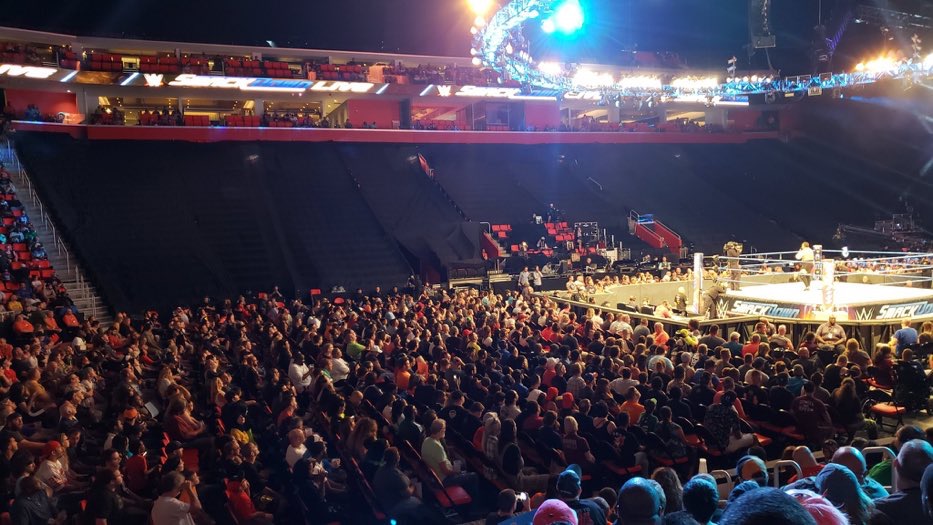 Now some people will argue that this isn't poor attendance and that the hard side of the camera is always tarped off to accomodate the camera setting. However, that's not the case and only a small portion of the hard side is used for setting up the camera.
The entire hard camera side is indeed tarped off because of poor attendance. Poor attendance for SmackDown events is a common issue. Fans used to put the blame for this on Jinder Mahal when he was the WWE Champion last year, but the same is happening now with AJ Styles as the WWE Champion.
Announcement: We have launched our 'WrestleFeed' App on both Android & iOS. We're trying to create Wrestling's own Social Media with it. Apart from all the wrestling news, videos & other updates on the app, we're also going to do a 'Wrestling Quiz' every week before Monday Night RAW soon. The winner of that Quiz will win $100.
Please download our app now! Below are the download links:
Android – http://bit.ly/2IVQ3yU
iOS – https://apple.co/2Oido0R
• RAW Wrestler Says He's The Most Underrated Superstar In WWE History
RAW wrestler Mojo Rawley thinks he's the most underrated superstar in WWE history. Below is what he tweeted:
The most underrated Superstar in @WWE History right here. The best combination of speed, strength, and intelligence in WWE History right here. A man that will make an impact like none before him in WWE History right here. #MojoRising #KillerInstinct #Focus #WWE #RAW pic.twitter.com/KvSIxSsEet

— Dean Muhtadi (@MojoRawleyWWE) September 4, 2018
Mojo was among the heel wrestlers that beat up The Shield in the main event segment of this week's RAW.