• Stone Cold Steve Austin vs. Brock Lesnar Was Pitched For WrestleMania 39
We reported that WWF Legend The Rock is unlikely to main event WrestleMania 39 against his real-life cousin Roman Reigns for the Undisputed WWE Universal Championship, because 'The Great One' doesn't feel there's enough time in his busy schedule to get in in-ring shape for a WrestleMania main event.
Fightful Select then reported that none other than 'Stone Cold' Steve Austin – who was also rumored to make an appearance at WrestleMania 39 – was offered a match against Roman Reigns as well:
"We're told at the very least, Austin's camp was approached with the possibility of it happening, which was said to have been for 'enormous' money. In the Summer of 2022, Fightful reported that Austin was approached with a deal that wasn't as appealing from a financial standpoint.
Those that we spoke to in WWE claimed they hadn't heard back on whether the more recent offer was accepted or not, and another source indicated that another 'big name' was offered to Austin in the months prior."
It looks like the other 'big name' that was offered to Austin was none other than Brock Lesnar. This is a match that was booked on RAW in 2002 as a King of the Ring qualifier, which led to Austin walking out and quitting WWE.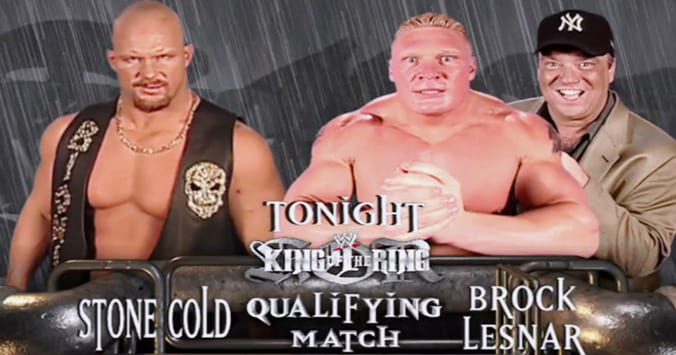 Here's what the Wrestling Observer reported:
"It was Brock Lesnar. It's not on. It's been talked about probably for months, because I know when that Brock Lesnar/GUNTHER thing came up, I was told immediately, 'That's not happening', or, 'That's not the idea right now'. Maybe it's gonna happen now.
But the idea was something that's a secret. So Austin was that secret. The match is not on, and it looks like it's gonna be Lesnar with Lashley based on [RAW XXX]."
Also Read: Original Plan For Stone Cold Steve Austin vs. The Rock At WrestleMania 19
New Video: Revealing Photos Of Nia Jax Leaked:
• On This Day In Pro Wrestling History (January 24, 1988) – NWA Bunkhouse Stampede 1988
On this day in Pro Wrestling history on January 24, 1988, Jim Crockett Promotions aired 'NWA Bunkhouse Stampede 1988' event LIVE on PPV from the Nassau Coliseum in Uniondale, New York.
This was the first and only 'Bunkhouse Stampede' event that aired as a pay-per-view.
It was held on the same night as the World Wrestling Federation's Royal Rumble 1988, which was on free television though.
Results:
NWA World Television Championship: Nikita Koloff (c) wrestled Bobby Eaton to a time-limit-draw
UWF Western States Championship: Larry Zbyszko defeated Barry Windham (c)
NWA World Heavyweight Championship: Road Warrior Hawk defeated Ric Flair (c) by DQ
Steel Cage Bunkhouse Stampede: Dusty Rhodes defeated Arn Anderson, The Barbarian, Ivan Koloff, Lex Luger, Road Warrior Animal, Tully Blanchard and The Warlord