Below are a couple of WWE and indy pro-wrestling stories:
– Dana W. Wiley filed a lawsuit against WWE and Vince McMahon in the US District Court of The Western District of Pennsylvania, alleging breach of contract and failure to reimburse a $5,500 contract for a personal fan meet with Alexa Bliss.
The lawsuit also claims McMahon breached an agreement for Wiley to become a WWE employee with a $70,000 per month salary.
Wiley seeks $6 million for breach of contract and reimbursement of all legal fees.
Below is what a part of this lawsuit read:
"Plaintiff was arrested and charge (sic) for attempted homicide, aggravate (sic) assault against New Castle, Pennsylvania Law Enforcement on 10/22/22 order the United States Secret Service and Pennsylvania State Police Troop, D. major case team to possess a warrant to unlawful seized Search I, Plaintiff phone device and property in conspiracy theory plot to obstruct and destroy any evidence supporting these facts that World Wrestling Entertainment employee Alexia (sic) Bliss email text to I, Plaintiff hangout, whatsapp email business accounts."
Wiley has previously attempted to sue McMahon, DX, and the nWo, claiming he signed a fair use contract for their trademarks in 1995. This lawsuit ended up getting dismissed.
– AJ Mendez (fka AJ Lee) made her return to the pro wrestling industry back in 2021, as an Executive Producer for Women Of Wrestling (WOW). She also worked as a commentator for the promotion.
Her time with the promotion is coming to an end as she shared in her Instagram story that her contract is winding down.
In her story, she also showed support for the Writers Guild of America, which is currently on strike.
"As my season-long contract with @wowsuperheroes winds down, I wanna thank the ladies for welcoming me into their locker room, our hair & makeup talk sessions, and constantly inspiring me with their hard work, talent, & genuine camaraderie.
I'll try to come back and play sometime in the future! I hope all you fans keep watching next season to support these incredible athletes & stars of tomorrow.
(this project is non union, but while we're here #wgastrong #sagaftrastrong)"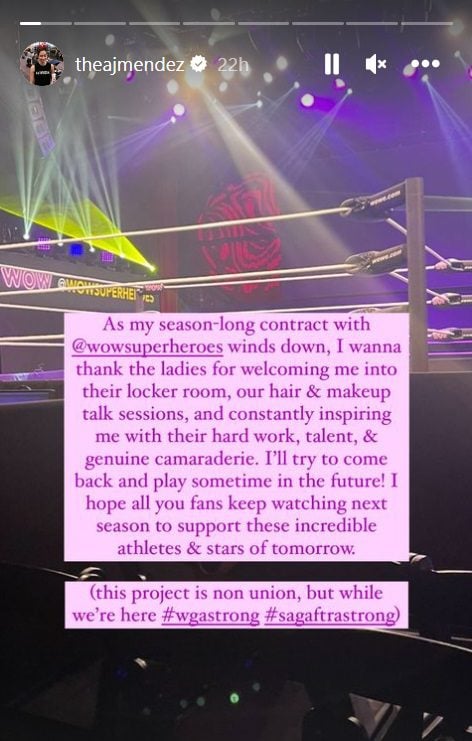 The former WWE Divas Champion hasn't wrestled since 2015. Fans would definitely love to see her joining her husband CM Punk in AEW, but it remains to be seen if she really wants to get back in the ring again.
WATCH: AJ Lee's (CM Punk's Wife) Wardrobe Malfunction In WWE: