This is part 6 of our Survivor Series 2019 live coverage (part 5 is here).
Up next is the RAW vs. SmackDown vs. NXT tag team elimination match.
Team RAW (led by "The Beast Slayer" Seth Rollins) comes out and Rollins gets booed. Team SmackDown (led by "The Big Dog" Roman Reigns) comes out next, followed by Team NXT (led by Tommaso Ciampa).
Rollins, Ciampa, and Strowman begin the match and Strowman shows his strength by throwing both of them away.
Rollins & Ciampa team up to attack Strowman, but Strowman takes them down with a dropkick!
It's McIntyre, WALTER and Strowman in the ring now! WALTER & McIntyre gang up on Strowman now.
WALTER and McIntyre are now chopping each other. WALTER takes down McIntyre with a big boot.
McIntyre hits WALTER with the Claymore Kick and pins the WWE United Kingdom Champion!
Eliminated: WALTER (NXT)
Fans are chanting "bullsh*t" after this elimination.
Damian Priest enters the match now and takes down McIntyre.
Riddle now enters the match and him and Shorty G are having a mat wrestling contest.
Kevin Owens hits a Frog Splash and pins Shorty G.
Eliminated: Shorty G (SmackDown)
Reigns enters the match after this, but King Corbin immediately tags in. Reigns & Corbin are having an argument and Owens superkicks Reigns!
Ciampa hits a DDT on Owens and pins him!
Eliminated: Kevin Owens (RAW)
Orton RKOs Ciampa and Priest! Orton pins Priest.
Eliminated: Damian Priest (NXT)
Riddle pins Orton!
Eliminated: Randy Orton (RAW)
Riddle is celebrating and Orton RKOs Riddle. Corbin enters the match and pins Riddle.
Eliminated: Matt Riddle (NXT)
RK-BRO.

➡️ https://t.co/NsQTgz3q4X pic.twitter.com/bg5RwhC71C

— TDE Wrestling (@tde_wrestling) November 25, 2019
Keith Lee and Braun Strowman now enter the match. McIntyre attacks Lee. Strowman takes out wrestlers on the outside with his shoulder tackles.
Strowman and Lee take out each other with a huge crossbody. Lee manages to get into the ring, but Strowman gets counted-out.
Eliminated: Braun Strowman (SmackDown)
Ricochet takes out Reigns on the outside with a dive. Corbin hits the End of Days on Ricochet and pins him.
Eliminated: Ricochet (RAW)
Ali enters the match and he's taking everyone out. Crowd is chanting for him as he's in his hometown.
Rollins hits a Stomp on Ali and pins him. Crowd booes Rollins.
Eliminated: Mustafa Ali (SmackDown)
McIntyre hits the Inverted Alabama Slam on Ciampa and goes for the cover, but Ciampa kicks out.
McIntyre is going for a Claymore Kick on Ciampa, but Reigns pins him after a Spear.
Eliminated: Drew McIntyre (RAW)
Reigns and Rollins are now going at it and crowd is cheering Reigns beating up Rollins.
Reigns hits Ciampa with a Superman Punch! Corbin forcefully tags in and the crowd begins chanting "STD".
Reigns is not happy and lays out Corbin with a Superman Punch and a Spear. Ciampa then pins Corbin.
Eliminated: King Corbin (SmackDown)
Reigns, Rollins, Ciampa & Lee are left in the match now.
Reigns & Rollins are now teaming up on the NXT guys. Rollins & Reigns are planning to powerbomb Ciampa through the announce table.
Rollins is clearing up the announce table and puts Ciampa on Reigns' shoulders, but Lee bulldozes all of them down.
Rollins stomps Ciampa and pins him.
Eliminated: Tommaso Ciampa (NXT)
It's now Reigns vs. Rollins vs. Lee.
Lee takes down both Reigns & Rollins. Rollins comes back with a superkick and a Frog Splash and goes for the cover, but Lee kicks out!
Lee hits his finisher on Rollins and pins him!
Eliminated: Seth Rollins (RAW)
It's down to Reigns & Lee now!
Reigns nails two Superman Punches on Lee and goes for the cover, but Lee kicks out. Corey Graves thinks it was a 3 count.
Lee hits a huge sitdown powerbomb on Reigns and goes for the cover, but Reigns kicks out.
Might not have got the win, but MY GOODNESS WHAT A NIGHT FOR @RealKeithLee! ?

➡️ https://t.co/NsQTgz3q4X pic.twitter.com/FyxAPUF03N

— TDE Wrestling (@tde_wrestling) November 25, 2019
Lee goes for a Moonsault, but misses and Reigns hits a huge spear to get the win!
Eliminated: Keith Lee (NXT)
#WWERaw: 1️⃣#WWENXT: 3️⃣#SmackDown: 2️⃣@WWERomanReigns is your SOLE SURVIVOR as he leads #SmackDown to victory! #SurvivorSeries pic.twitter.com/SMaBK1ogof

— WWE (@WWE) November 25, 2019
Team SmackDown def. Team NXT and Team RAW (Sole Survivor: Roman Reigns)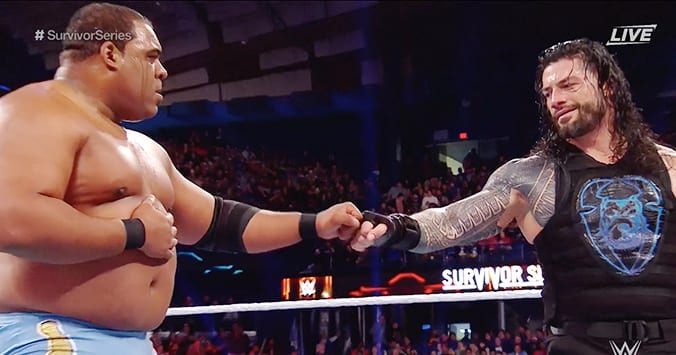 Below is the brand supremacy score for tonight so far:
RAW vs. SmackDown vs. NXT: 1-2-3
WATCH: Super Hot Video Of Lana Spanking Carmella In A Bikini: