• Ted DiBiase Will Be Working With An NXT Wrestler Soon
'The Million Dollar Man' Ted DiBiase appeared as a guest on Booker T's weekly Hall of Fame podcast and together they compared the current era of wrestling to their respective Old School eras, pointing out the main differences between the products.
Here's what the 2010 WWE Hall of Famer told Booker T and the listeners:
"I would say a lot of the guys today, through no fault of their own, I mean my generation and your generation were the last to learn the business the way it was always taught, a guy would take you in the ring and teach you out to take the basic bumps to protect yourself. And then you'd just get in the ring and go.
But they would put you in the ring every night with an experienced guy who could lead you. And over time we acquired this gift to read the crowd. You could have a match with a guy one night, and if you tried to duplicate that the next night you may do it, but you might not get the same reaction.
That's the deal. If they don't react the way you expect them to, then we had to learn to think on your feet, shift gears and do something different. I still say, to me, that's what's missing in wrestling today.
We go somewhere to sign autographs and I hear it, day in and day out. 'You guys between the mid 80's and mid 90's, you guys were the last great era of wrestling.'
I don't want to take anything away from the young guys today. It's just everything has changed. I'm supposed to go down to the Developmental Center pretty soon. I think I'm going to do something with their new money (gimmick) guy, Cameron Grimes or something?
The guys down there that are instructing the talent, those are guys I know and they're good. I don't know, I really don't know what it is. I think it's, more than anything, they don't have the time. They don't have the time we had to get in the ring and have a 25 to 30 minute match every night. And learn to feel the business."
WATCH: Sunny Shows Off Her Bare Buns:
You can download our official WrestleFeed mobile app to check out more Wrestling news & Divas content. Tap here to download.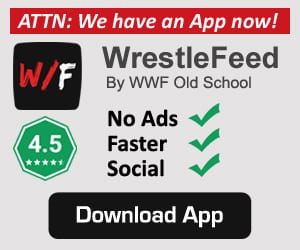 • Old School WWF Veteran Celebrates His Birthday
Old School WWF Veteran Nailz (Real name: Kevin Wacholz) turns 63 today.
He's one of the very few Old School Wrestlers that Vince McMahon is most likely never going to forgive, after Nailz choked him out during a dispute over a paycheck in late 1992.
Needless to say, he was fired on the spot and never mentioned again.
WCW brought him in as 'The Prisoner' just a few months later for their Slamboree 1993 PPV, where Wacholz jobbed to Sting in 5 minutes.
If not for his long career (which he didn't have), at least he gets remembered for having a WWF Hasbro Figure, that was actually selling really well.
HAPPY BIRTHDAY NAILZ!