• ON THIS DAY IN WWF HISTORY (February 8, 1987) – WWF Wrestling Challenge
On this day in 1987, the World Wrestling Federation aired an episode of their weekly TV show 'WWF Wrestling Challenge'.
It was broadcasted from the Lee Civic Center in Ft. Myers, Florida and featured pre-taped matches, interviews & storyline segments on the road to the 'WWF WrestleMania III' PPV.
The card can be found right here:
1. Koko B. Ware vs. Jimmy Jack Funk
2. Jake Roberts vs. David Gold
3. Demolition vs. S.D. Jones & Don Driggers
4. Adrian Adonis vs. Mario Mancini
5. Rick Martel & Tom Zenk vs. "Iron" Mike Sharpe & Steve Lombardi
• The Rock Posts Emotional Eulogy Video From His Father's Funeral, Multiple Legends & WWE Superstars In Attendance
Old School WWF Legend The Rock posted an emotional eulogy video from his father, Rock Johnson's funeral.
Multiple legends and WWE Superstars were in attendance and the video even shows The Rock hugging Triple H and Vince McMahon.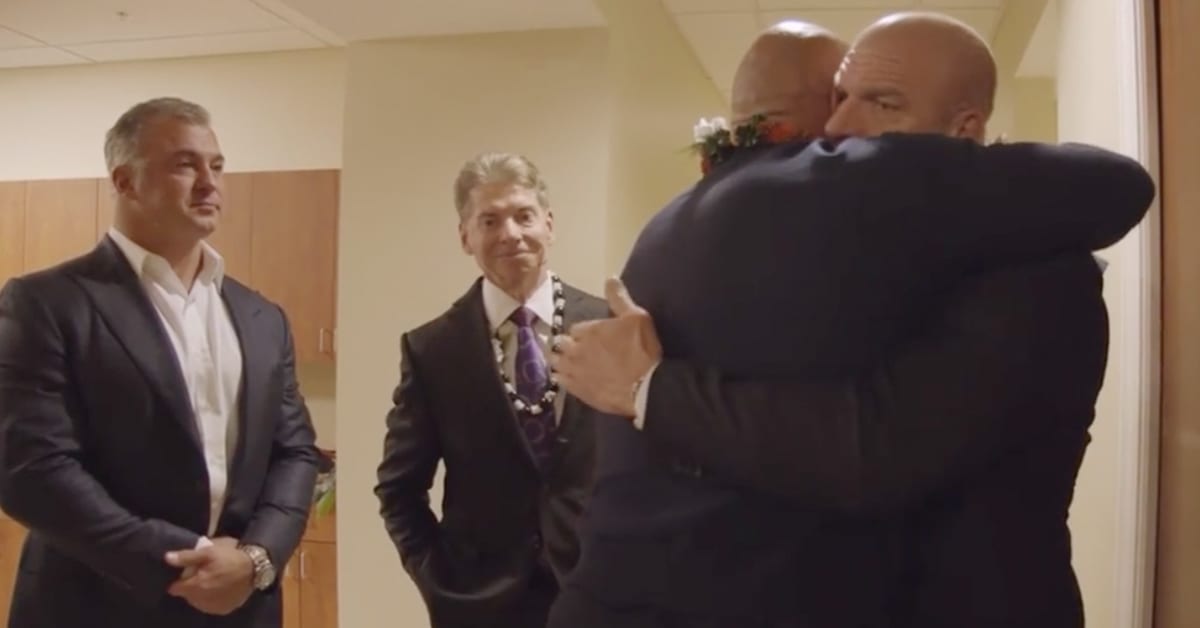 Below is The Rock said during the eulogy:
"Man, I wish I had … I wish I had one more shot," the actor began. "I wish I had one more shot to say goodbye … to say I love you, to say thank you, but I have a feeling he's watching. He's listening."
"I was on my way to work, the other day on Jan. 15 and I was just pulling into work and we were shooting that day and it was the very first day of production […] something's going on with your dad."
"Lauren was with our babies, she was with my mom and she said, 'You know, I really can't talk… I think you should call Cora though', so of course I called Cora."
"I'm literally just pulling in and I'm looking at the whole crew, hundreds of guys and women milling around, carrying equipment and waving at me in the truck, and I'm waving back and it all got really foggy and it seemed like it was a big dream."
"You know how you have those moments where you try and shake yourself out of it, and you're like 'No, it's not a dream. … My dad's gone.'"
"In that moment, I just thought 'Well, what do I need to do? What's the next thing that I need to do?'"
"And I heard a voice say, 'Well, hey, the show must go on,' and that was my dad. That was my old man who told me that."
"The other side to it that I wanted to point out that I thought was important to say is that when somebody is a trailblazer that means that they actually, they have the ability to change behaviour and audience's behaviour, people's behaviour […] And for my dad, when he broke into the business in the mid '60s and throughout the late '60s and into the '70s in the United States where racial tension and divide was very strong and in the '60s and the '70s you have a black man coming in, it's an all-white audience and all these small little towns that eventually I would go on to wrestle in — but at that time he changed the audience's behaviour and actually had them cheer for this black man."
"And not when he was wrestling against other black men, 'cause he was usually the only black guy in the territory, he was wrestling against other white wrestlers. I thought that was really unique, and I thought that was really powerful, and I thought that it deserved to be said. And that's what this man did."
"When you think of my dad's name, you think 'hard work."
"You think 'barrier-breaking,' you think being the hardest worker in the room, always working out. He taught me how to work out at a very young age […] Hard work, discipline — those are things and tenants that are synonymous with my dad's name."
"What's amazing to me now, after a day like today after we come here and we give our respect and our love, he's galvanized, he's responsible for galvanizing families now. Because through processes like this, we've all lost loved ones, but guaranteed when we walk out of these doors, we're going to hold each other a bit tighter, we're going to hug each other a bit harder, we're going to kiss each other and we're going to say, 'I love you,' and we're going to be a bit more present."
"I wish your soul at rest and at ease."