• On This Day In Pro Wrestling History (April 22, 2000) – ECW CyberSlam 2000
On this day in Pro Wrestling history on February 17, 1996, ECW promoted 'ECW CyberSlam 2000' at the ECW Arena in Philadelphia, Pennsylvania.
This is the event where Tommy Dreamer finally won the ECW world Heavyweight Championship.
He defeated WWF Superstar Taz(z) for the belt, but lost it the very same night to Justin Credible.
Clips of his title win celebration were shown on ECW TV and the match was put on one of the "ECW Unreleased" DVD & Blu-Ray sets, but the full event was never released.
Here are the full results from that night:
– Masato Tanaka defeated 2 Cold Scorpio
– Lance Storm & Dawn Marie defeated Nova & Jazz
– Three-Way Dance: Little Guido defeated Super Crazy and Kid Kash
– The New Dangerous Alliance defeated Danny Doring & Roadkill
– Balls Mahoney & New Jack defeated Da Baldies
– Steve Corino defeated Dusty Rhodes
– ECW World Television Championship: Rhino defeated Yoshihiro Tajiri (c)
– ECW World Heavyweight Championship: Tommy Dreamer defeated Taz (c)
– ECW World Heavyweight Championship: Justin Credible defeated Tommy Dreamer (c)
• The Undertaker Trolls Braun Strowman On Instagram
"The Monster Among Men" Braun Strowman recently made a post on Instagram where he talked about how he was honored to perform in front of his grandparents for the first time ever live.
Below is what he posted:
"So awesome I got preform for my family tonight my grandpa has never seen me live so it was an honor!!!!! #wwe #family #thankyou #wwemadison"
The Undertaker and Braun Strowman then had an interesting exchange in the comments of that post and you can check it out below:
Undertaker: I know what they were probably doing after the show…
Strowman: Stop it!!!!!!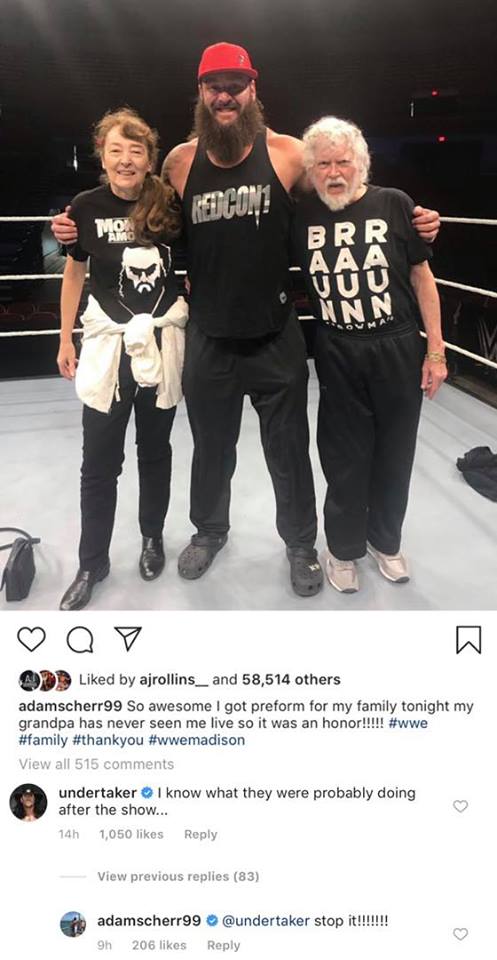 WATCH: CM Punk Returns To Wrestling Under A Mask (April 2019):