Let's take a look at the top 8 news stories of the hour from the world of WWE & Professional Wrestling:
8. Marriage Application of Dean Ambrose & Renee Young
As we noted yesterday, Intercontinental Champion Dean Ambrose & Renee Young are married now. WWE confirmed that they got married in Las Vegas. Below is what they posted:
Renee Young and Dean Ambrose get married in Las Vegas
Along with his Intercontinental Championship, Dean Ambrose brought yet another prize to Raw during the Superstar Shake-up: A wedding band. Keen-eyed members of the WWE Universe were quick to react to Ambrose's ring Monday night, and after Renee Young was also seen sporting a wedding band throughout Tuesday night and on WWE Network's Talking Smack, not even Dolph Ziggler or United States Champion Kevin Owens could resist hinting at the issue.

So, did Renee and Dean get married? The SmackDown LIVE interviewer would later reveal that they did, indeed, tie the knot, tweeting, "Marriage is nice. Thanks for all the love."
Marriage is nice. Thanks for all the love ☺️❤️

— Renee Young (@ReneeYoungWWE) April 12, 2017
WWE later confirmed that the couple married in Las Vegas on Sunday. Join us in congratulating the newlyweds!
Below is a photo of the marriage application of Dean and Renee: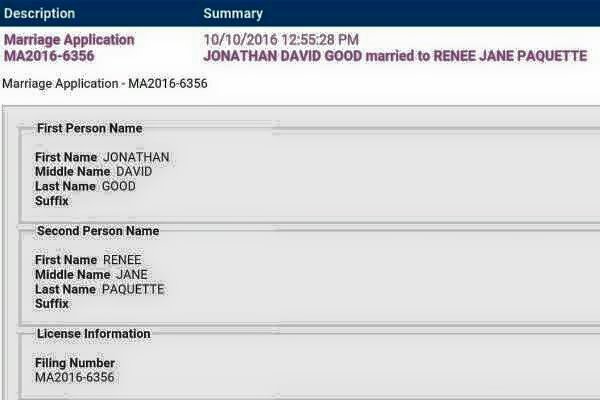 Jonathan David Good is the real name of Dean Ambrose.