• Triple H's Reaction To CM Punk Meeting Him At RAW
CM Punk was backstage at last night's RAW at the Allstate Arena in Chicago.
Punk reportedly asked if he could stay backstage for a few minutes and he wanted to speak to Triple H privately.
According to Fightful Select, Triple H was shocked to see Punk at a WWE event after 9 years.
HHH said he'd have to ask Vince McMahon to see if Punk could stay backstage, and soon he was informed that isn't possible. Punk then shook Triple H's hand before leaving.
It looks like one of the main reasons of Punk's visit was to bury the hatchet with some of the guys he had issues with.
Punk and The Miz met last night and settled their differences.
When Punk joined WWE Backstage on FS1 in 2019, he talked about 'changing the culture'.
When The Miz appeared on WWE Backstage, he took a shot at what Punk said when he said the following:
"I feel like this was the best WWE Backstage ever. What do you mean in or around (the best ever), name one that was better. Sorry I didn't change the culture, my bad!"
This led to Punk tweeting the following:
"Go suck a blood money covered d**k in Saudi Arabia you f**king dork."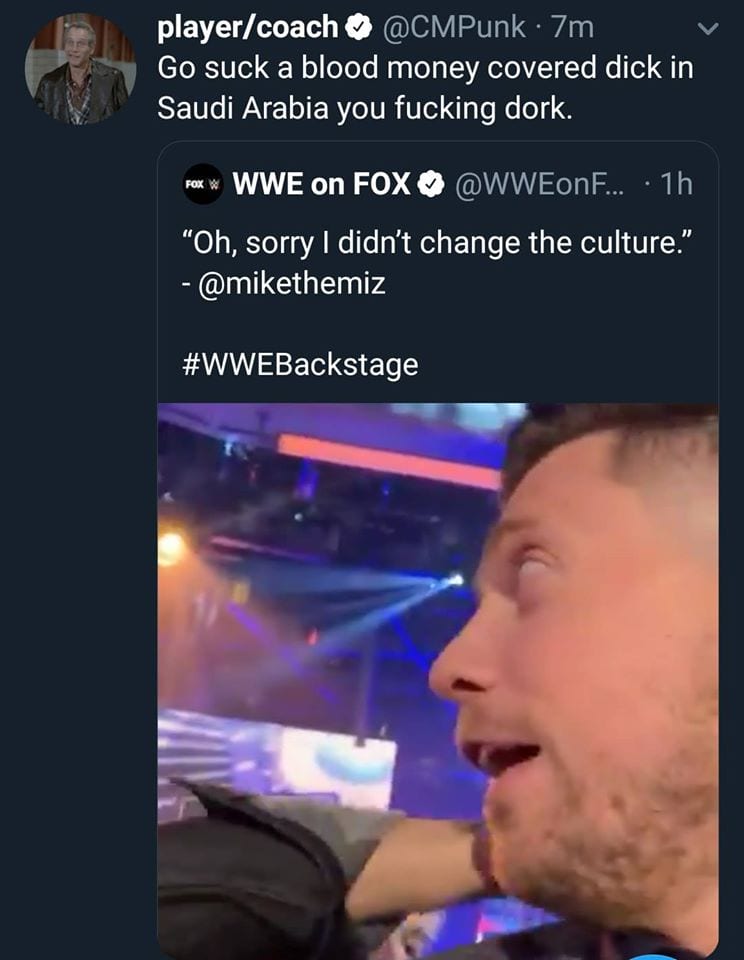 Also Read: Backstage Feeling In WWE About Why CM Punk Was At RAW
WATCH: Revealing Videos Of Former ECW/WWE Diva Dawn Marie:
• On This Day In Pro Wrestling History (April 25, 1999) – WWF Backlash: In Your House 28
On this day in Pro Wrestling history on April 25, 1999, the World Wrestling Federation aired 'Backlash: In Your House 28' LIVE on PPV from the Providence Civic Center in Providence, Rhode Island.
This was the 1st annual Backlash pay-per-view held by the WWF/WWE from 1999 till 2009 (and again since 2016) and also at the same time the final In Your House pay-per-view out of 28 that aired since 1995.
Here are the PPV results:
The Ministry of Darkness defeated The Brood
WWF Hardcore Championship: Al Snow defeated Hardcore Holly (c)
WWF Intercontinental Championship: The Godfather (c) defeated Goldust
#1 contenders: The New Age Outlaws defeated Jeff Jarrett & Owen Hart
Boiler Room Brawl: Mankind defeated Big Show
Triple H defeated X-Pac
The Undertaker defeated Ken Shamrock
No Holds Barred – WWF Championship: Stone Cold Steve Austin (c) defeated The Rock