• Undertaker Doesn't Understand This Generation Of Professional Wrestlers, Says Former WWE Wrestler
Former WWE 24/7 Champion Mike Bennett (fka Mike Kanellis in WWE) is the latest name to address The Undertaker's comments about WWE's product being soft.
Here's what Mike said:
"First and foremost, I have the utmost respect for Undertaker. I always have and he was one of my favorites growing up. He was nothing but kind to me anytime I interacted. I didn't interact with him a lot at WWE, but every time I did, he was great.
My issue is, his problems seem to come at the talent and say that it was their fault that the product is soft. I can promise you that the talent has zero input on the product that gets put out. They get told what to do, if they go off script they get yelled at, or they get punished. It's not the talent.
The talent has always been ready and willing to do whatever is asked of them and most of the talent have had far more success on the independents, doing what they normally do, than when they get to WWE and they get watered down. They get told to do this, and do that, and do this.
I do understand where Undertaker's coming from. It's just, from what I see it as, it's just a generation gap. It's a difference. We as the professional wrestlers of my generation, we look out for each other. We have each other's backs. We understand when the company's trying to screw us or not screw us or this and that, and I don't think the guys are soft.
My wife is very close with Michelle McCool and having that interaction there, I don't think Undertaker was trying to be disrespectful. I think it's just a generational thing.
I think it's his mindset of, 'Well, this is the way we did it. They're not doing it this way so it must be wrong' as opposed to someone like Mick Foley, who's adapting and understanding the way professional wrestling is evolving. Or someone like Edge, who's helped out so many of the younger guys and understands where wrestling is evolving.
So, I don't think it was a disrespect thing from Undertaker, I just think it was a generational gap and not understanding this generation of professional wrestlers."
As we have noted before, top guys like John Cena, Universal Champion Roman Reigns and WWE Champion Drew McIntyre disagreed with Undertaker's comments, while there are other names who agreed with The Phenom, including top stars and legends like "Stone Cold" Steve Austin, Tony Atlas (who ripped Seth Rollins, tap here to read more) and United States Champion Bobby Lashley.
Also Read: The Undertaker Praises 2 Current WWE Wrestlers, Says They Are Special Talents
WATCH: Sara (Undertaker's Ex-Wife) In A Bikini – Part 4:
You can download our official WrestleFeed mobile app to check out more Wrestling news & Divas content. Tap here to download.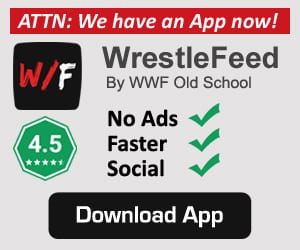 • On This Day In Wrestling History (February 11, 2017) – Old School Wrestling Legend Passes Away
On this day in 2017, we lost Old School Wrestling Legend "Chavo Classic" Chavo Guerrero Sr. (Real name: Salvador Guerrero III) at the age of 68 due to liver cancer.
Chavo Sr. was the brother of Old School WCW/WWF/WWE legend "Latino Heat" Eddie Guerrero, and the father of WCW Veteran Chavo Guerrero Jr.!
He wrestled for several territories during the 70s and 80s, but was also involved in a 2004 storyline on "WWE SmackDown!", that saw him winning the Cruiserweight Championship from his own son.
† REST IN PEACE CHAVO GUERRERO SR.
January 7, 1949 – February 11, 2017