The Undertaker & his wife Michelle McCool participated in the 4th annual CC4C Micro Marathon 4 Inspiration in Bee Cave, Texas on Sunday.
While they were participating in the Marathon, someone TPed Undertaker's home. Michelle McCool noted on Instagram that they have outdoor security cameras and they now know who the culprit is. Below is what she posted on Instagram: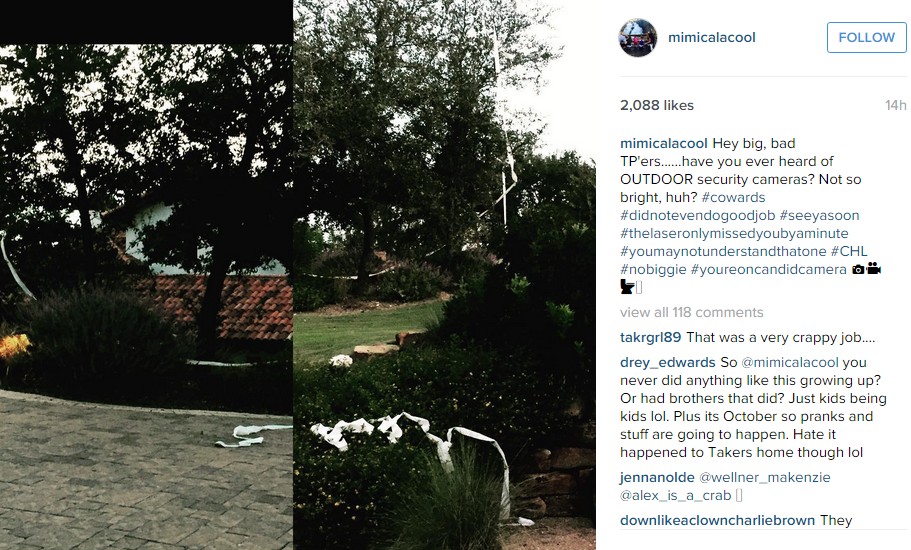 Speaking of Undertaker, he is scheduled to work WWE's Live Event in Mexico in October. Undertaker will reunite with Kane, together known as Brothers of Destruction, to face Luke Harper & Braun Strowman of the Wyatt Family. The Mexico tour takes place from October 16-18. As we have noted before, WWE has been looking for top Hispanic stars after the departure of Alberto Del Rio & Rey Mysterio. Lack of top hispanic stars in WWE has forced WWE to book Undertaker for the Mexico tour in October.
According to latest reports, 3 names have been shortlisted as possible opponents for The Undertaker at WrestleMania 32 – John Cena, Braun Strowman, & Seth Rollins. Seth Rollins is the current WWE World Heavyweight Champion and the #1 heel of WWE at the moment. Braun Strowman is a monster heel but is super green at the moment. John Cena is the #1 babyface of WWE for more than 10 years now. The idea behind WWE possibly booking Undertaker vs. Cena at WrestleMania is that these two have never had a match at big stage after Cena became the face of the company back in 2005.
Are you a die hard Attitude Era fan? Take the special edition of our exclusive "Old School Wrestling Quiz: Attitude Era Special (1997-1999)" below: